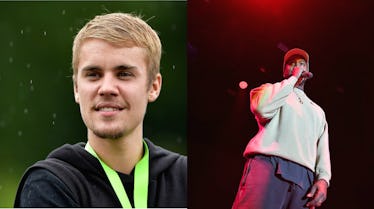 Justin Bieber Weighed In On The Kanye West Drama & Well, That's Nice
Stuart Franklin/Getty Images Sport/Getty Images & Neilson Barnard/Getty Images Entertainment/Getty Images
You know what they say. If you can't beat 'em, join 'em. Justin Bieber may be known as a bad boy within the music industry, but it looks like he might be dethroned by one of hip-hop's biggest icons. Despite the drama, Justin Bieber's comments about Kanye West prove the pop musician has the rapper's back.
On May 3, Bieber posted on his Instagram story to show support for Kanye West. In his post Bieber wrote, "Our job is to love not to always agree! Love you Kanye."
Even though this is a kind gesture, it's still a bit of a head scratcher. For those who haven't been up to date on the drama, Kanye West has been a huge topic of conversation since April 25 when he expressed his support and "brotherly love" for Donald Trump on Twitter. Then, just to add fuel to the fire, West appeared on TMZ Live on May 1, where he said that slavery was "a choice." Naturally, West has ignited controversy among media outlets and social media channels alike. Even West's fellow celebrities have criticized the rapper's recent comments, but it looks like Bieber might be supporting West on this occasion.
Will this saga ever end?
Perhaps the reason why Bieber is coming to Kanye's defense is because the pop musician is very familiar with being the center of controversy. To be fair, Bieber's brushes with controversy can be labeled more childish antics, but that didn't stop the public from completely turning on him for a while.
Who could forget the Justin Bieber from a few years ago, when he graced headlines daily due to his controversial antics. In 2014, the singer-songwriter allegedly pelted his neighbor's house with eggs and, after pleading no contest to a charge of misdemeanor vandalism, received two years probation because of the incident. That same year, Bieber visited Japan and posted a picture of him bowing in front of Yasukuni Shrine with the caption "Thank you for the blessings." However — unbeknownst to Bieber — that shrine has a controversial history. Apparently, Yasukuni Shrine honors the country's war dead, including World War II military leaders convicted of "horrendous" war crimes, according to PRI. To Bieber, it was just a nice monument. However, once realizing his mistake, he immediately apologized for the photo on Instagram.
He wrote,
While in Japan I asked my driver to pull over for which I saw a beautiful shrine. I was mislead to think the Shrines were only a place of prayer. To anyone I have offended I am extremely sorry. I love you China and I love you Japan.
So yeah, Bieber definitely knows his way around a controversy. However, this situation with Kanye West seems like a whole other ballgame. On April 25, West tweeted his support of Donald Trump and referred to him as his "brother."
He wrote,
You don't have to agree with trump but the mob can't make me not love him. We are both dragon energy. He is my brother. I love everyone. I don't agree with everything anyone does. That's what makes us individuals. And we have the right to independent thought.
This obviously already stirred up drama on Twitter, but West went even further, posting photos of his Make America Great Again (MAGA) hat signed by Donald Trump, along with a selfie of them two together. Following his Twitter rant, close friend and fellow musician John Legend reached out to West to ask him to "rethink" supporting Trump. However, in classic Kanye West fashion, West posted the text conversations on Twitter for all of his fans to see.
Honestly if I were Bieber, I'd stay out of this drama. I'm sure his intentions are pure, but this is a situation I don't think even Bieber fever can cure.