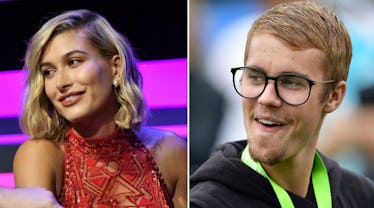 Justin Bieber Left The Sweetest Comment On Hailey Baldwin's Instagram & Ugh, I'm Melting
Mike Coppola/Getty Images for Tribeca Film Festival/ Stuart Franklin/Getty Images
I don't know if you've heard, but... Justin Bieber and Hailey Baldwin are engaged! Oh, who am I kidding? Of course you've heard, it's everywhere! And judging by Justin Bieber's comment on Hailey Baldwin's Instagram, this couple isn't going anywhere but down the aisle anytime soon.
If for some reason you aren't caught up on this duo, here's a little back story for you. Rumors about the couple started in 2015, as they were spotted spending lots of quality time together. Of course, this kicked off the rumor mill, but Baldwin shot down the speculation, telling E! News, "We're just friends. I've known him for a long time, since I was about 13… He's just going through a time in his life where he's transitioning in a really positive way and he needs good people around him. And I'm trying to be a good friend and be there for him and support him."
And yet, despite her denials, in December 2015 Baldwin joined Bieber and his family on a tropical vacation. This was followed by Bieber and Baldwin being getting hot and heavy at Leonardo DiCaprio's New Years Eve party in St. Barts. But despite all that passion, it seemed like a wrap for the duo when they went their separate ways that same year. In fact, according to Baldwin, they even stopped being friends. While she didn't elaborate on what exactly ended the friendship, she did say, "We didn't speak for quite some time and there was a lot of weirdness that went on. We've moved past that." Which paved the way for what would come next.
So, story over, right? Nope. In June 2018, Baldwin had apparently gotten past all the "weirdness" and the two were again seen stepping out together at a church conference in Miami followed by a night out at LIV nightclub, as well as popping up together all over New York throughout the month. The two have been inseparable ever since, culminating with the big announcement earlier this week that, ta da!, they're engaged! Making the announcement via Instagram — because how else would you do it in 2018? — Bieber posted a photo of them being sweet and cozy with a caption that read:
Was gonna wait a while to say anything but word travels fast, listen plain and simple Hailey I am soooo in love with everything about you! So committed to spending my life getting to know every single part of you loving you patiently and kindLY. I promise to lead our family with honor and integrity letting Jesus through his Holy Spirit guide us in everything we do and every decision we make. My heart is COMPLETELY and FULLY YOURS and I will ALWAYS put you first! You are the love of my life Hailey Baldwin and I wouldn't want to spend it with anybody else. You make me so much better and we compliment eachother so well!! Can't wait for the best season of life yet!…
So yeah, I think they're in a pretty happy place, and I don't think we should expect Bieber to stop gushing about his lady love anytime soon. His latest declaration on Instagram is a perfect example. A week ago, Baldwin posted a closeup of herself serving full Marilyn Monroe realness, sporting vintage makeup and soft blond curls that make we want to break out the hot rollers ASAP! Let's just say, if you thought she was gorg before, brace yourself, because I don't think she's ever looked better — and that's saying a lot. And it appears that Bieber agrees. Keeping it short and sweet (and maybe a little possessive) he commented on the photo with "Dats mine." Well, OK then, Biebz. I guess in that case it's a good thing you put a ring on it.
But seriously, it seems like this couple is in a great place. And after seeing how totally stun Baldwin is in this pic, I honestly can't wait to see her wedding day glam. When's the date, folks? And where is my invite?
Check out the "Best of Elite Daily" stream in the Bustle App for more stories just like this!