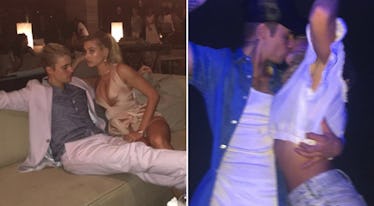 Justin Bieber & Hailey Baldwin's Body Language Proves You Should "Never Say Never"
Justin Bieber on Instagram
Unless you live under a rock, you've heard the news that a certain teen heartthrob and his (not so) rumored girlfriend got engaged this week. Yes, as shocking as it may sound to the world, Biebz is off the market for good. Thankfully, Justin Bieber and Hailey Baldwin's body language is actually evidence of how strong their relationship is (contrary to popular belief), and how long they've both been wanting this to happen. Yes, while it may seem strange that the two got engaged so suddenly, there's no denying that the heart wants what it wants, and for Beiber and Baldwin, they just know.
At least, that's what it looks like to the untrained eye. According to body language expert Traci Brown, author of Persuasion Point: Body Language and Speech for Influence, Beiber and Baldwin's engagement isn't actually that surprising.
Now, in case you do live under a rock, or you somehow haven't heard about Bieber and Baldwin's engagement, allow me to fill you in. If you're anything like me and you aren't exactly down with the youths, then you might not have even known that Bieber and Baldwin were an item. Maybe you thought the singer was still dating Selena Gomez, and that's totally fine, because it's all a little confusing.
But, the thing is, the two have actually known each other for almost ten years, although it's a little confusing as to when they actually first started dating. Really, the two met when they were just young teenagers, back in 2009, according to Teen Vogue. That means Bieber was either 14 or 15 years old, and Baldwin was 12 or 13. Basically, they have a long history, and according to Brown, this could explain some of their encounters with each other since then.