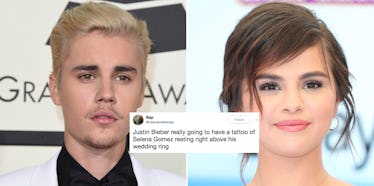 Justin Bieber Still Has A Selena Gomez Tattoo & Twitter Has Questions
Jason Merritt/Christopher Polk/Getty Images/Twitter
Justin Bieber and Zayn Malik have something in common outside of their music careers: they both have tattoos of ex-girlfriends. Malik used to have a tattoo of Little Mix's Perrie Edwards' (his former fiancée's) face. After they broke up, he had it covered with a new tattoo. Now, of course, he has a tattoo of Gigi Hadid's eyes on his chest. Bieber, who is now engaged to model Hailey Baldwin, has a tattoo of Selena Gomez's face on his left wrist. Yup, Justin Bieber still has a Selena Gomez tattoo, even though they broke up a while ago and he's engaged to Hailey Baldwin. So, will he get rid of it? Or is he planning on keeping it? Twitter has questions.
TMZ first reported on July 8 that the Biebs proposed to Baldwin, saying he proposed while they were at the beach on July 7. On July 9, Bieber and Baldwin confirmed their engagement on Instagram and Twitter, and they sound hella in love in their announcements. Bieber's Instagram confirming his engagement was a long post dedicated to Baldwin. It said,
Was gonna wait a while to say anything but word travels fast, listen plain and simple Hailey I am soooo in love with everything about you! So committed to spending my life getting to know every single part of you loving you patiently and kindLY. I promise to lead our family with honor and integrity letting Jesus through his Holy Spirit guide us in everything we do and every decision we make. My heart is COMPLETELY and FULLY YOURS and I will ALWAYS put you first! You are the love of my life Hailey Baldwin and I wouldn't want to spend it with anybody else.
The heartfelt caption continued,
You make me so much better and we compliment eachother so well!! Can't wait for the best season of life yet!. It's funny because now with you everything seems to make sense! The thing I am most excited for is that my little brother and sister get to see another healthy stable marriage and look for the same!!! Gods timing really is literally perfect, we got engaged on the seventh day of the seventh month, the number seven is the number of spiritual perfection, it's true GOOGLE IT! Isn't that nuts? By the way I didn't plan that, anyways My goodness does feel good to have our future secured! WERE GONNA BE BETTER AT 70 BABY HERE WE GO! "He who finds a wife finds a good thing and obtains FAVOR from the Lord!" This is the year of favor!!!!
They look so in love in the photos Bieber posted.
Hailey Baldwin's tweet confirming their engagement was a bit simpler, but still just as sweet. The model tweeted, "Not sure what I did in life to deserve such happiness but I am so utterly grateful to God for giving me such an incredible person to share my life with! No words could ever express my gratitude."
Check out Bieber's engagement announcement photo, however, and if you look closely at the top of the singer's left wrist, you can see he still very much has the tattoo of Gomez's face surrounded by angel wings. Yikes.
People on Twitter are pointing out the hella awkward fact that Bieber's Selena Gomez tattoo is on his left wrist, just a few inches above where his wedding ring will be. Double yikes.
Bieber explained his tattoos in a 2016 GQ video, and he didn't leave out the Gomez tattoo.
He awkwardly says in the video that he tried to cover up Gomez's face with some shading, "but people still know."
I mean... maybe Hailey Baldwin is cool with the tattoo...? She used to be a Jelena stan, after all. Not kidding. Some old Hailey Baldwin tweets have resurfaced since her engagement to Bieber, and they're hilariously about how much she loved the fact that Justin Bieber and Selena Gomez were dating.
I'm literally crying, this is so funny.
In a group of tweets from 2011, Baldwin fangirled over Bieber and Gomez's relationship. In one tweet, she said, "I don't care what anyone says but Justin Bieber and Selena Gomez together is the definition of a teenage dream! #word." Yeah, girl. Word. In another tweet, she said about her future fiancé, "I'm for sure 100% team #Jelena." Do you think she feels the same way now? I don't know guys, but I think that could be a maybe.