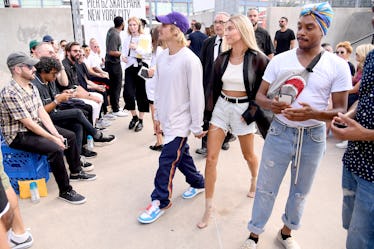 Justin Bieber & Hailey Baldwin's Reported Matching Tattoos Are All About Their Love
Nicholas Hunt/Getty Images Entertainment/Getty Images
Unless you're living under a literal boulder, you've most likely heard about the hot, passionate, and endlessly dynamic love between pop singer Justin Bieber and model Hailey Baldwin. After the two lovebirds reportedly tied the knot a few short weeks ago, it's rumored that the couple just got matching tattoos, thus making their love a little more permanent. Yes, you heard that loud and clear, my friends: Justin Bieber and Hailey Baldwin reportedly got matching tattoos — and apparently, they're super subtle. Elite Daily reached out to both Baldwin's and Bieber's teams for comment on the reported tattoos, but did not hear back at the time of publication.
Tons of famous celebs you know and love have gotten inked by Bang Bang, New York City-based celebrity tattoo artist also known as Keith McCurdy. His list of clientele boasts big names like Rihanna, Miley Cyrus, Selena Gomez, Adele, and Demi Lovato. Now, though, McCurdy has reportedly tatted J. Biebs and Hailey Baldwin too, according to Page Six.
Anyway, McCurdy informed Page Six that the "Sorry" singer's rumored new ink is reportedly on his face, and based on recent photos, it looks like it sits right above the singer's right eyebrow. McCurdy revealed that it (somehow) matches the tat he gave Baldwin, without revealing the significance of it, or what it is. He did, however, stress the fact that it's super subtle. You can take a look at the reported tattoo here. It's apparently different from the bolder ink the Biebs likes to show off.
Even though you can't really see it, McCurdy says Bieber and Baldwin's tats are comprised a few little words, per Page Six. According to McCurdy, it's "really thin and delicate," noting that it's "not a traditional couple's tattoo." Still, few details have been revealed about it.
Ever since McCurdy made his mark on Biebs, he said he hasn't seen any photos of his work. Per Page Six, McCurdy said:
They each got a tattoo. Justin's tattoo is on his face, and I haven't seen any photos of it — so he's doing a good job of laying low.
OK, I'm done playing games. I simply just want to know what the tattoo actually looks like, for goodness sake.
The artist who completed Bieber's other facial tattoo is known as JonBoy, according to Page Six. He reported that the other one was pretty much invisible, so I guess Biebs isn't going for a Post Malone look quite yet. Oh well.
New ink isn't the only way Bieber is changing up his look — the pop-star reportedly cut off his long locks, and fans are absolutely loving it. The photo of his new buzz cut is super cute, and chances are you'll totally ship it.
OK, at this point, all I can really say is, "What does this tat look like, guys?!" Is Hailey's supposed tat on her face, like Biebs' reportedly is? What does Justin's alleged tattoo say? Do the tats match, or do they just complement each other? These reported tats are still super ambiguous at this point in time, and honestly, it's kind of killing me. If anyone finds out, please fill me in — I need answers.