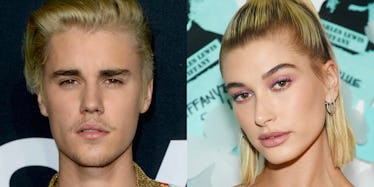 Justin Bieber & Hailey Baldwin Might Be Making A Major Move In Their Relationship
Jamie McCarthy/Matt Winkelmeyer/Getty Images
When I say what I'm about to say, I need you to imagine me saying this with a Canadian accent: Is it too late now to say sorry? It might just be, folks, because Justin Bieber and Hailey Baldwin might move to Canada. They are done with us, do you hear me?! Done! Caput! According to Us Weekly, the future Mr. and Mrs. Baldwin-Biebs (that's the married name I've given them. Hope they like!) are thinking about setting down their family roots in Canada because the New York and Los Angeles lifestyle just isn't their cup of tea anymore. Elite Daily reached out to Bieber and Baldwin's teams for comment on this report, but did not hear back by the time of publication.
"He wants to make his full-time home in Canada," a source told the outlet. "He needs to get out of the L.A., NYC scene." The source said Bieber's desire to live in Canada (where he grew up, of course, before moving to the states after his music career skyrocketed) because his intense fame over the years has really taken a toll on him. He wants to live in a more peaceful place since fame has been "overwhelming for him," according to the source. "He's trying to climatize what a normal life should look like," they added, in the most bougie sentence I've read today. (Climatize?) The source says "he feels most at peace at home," so it looks like this move is really a possibility for the couple.
Bieber and Baldwin have been engaged for a couple of months now. They confirmed their happy (albeit hella fast) news on social media on July 9.
Bieber's heartfelt Instagram post started off with him saying, "Was gonna wait a while to say anything but word travels fast, listen plain and simple Hailey I am soooo in love with everything about you! So committed to spending my life getting to know every single part of you loving you patiently and kindLY."
He continued,
I promise to lead our family with honor and integrity letting Jesus through his Holy Spirit guide us in everything we do and every decision we make. My heart is COMPLETELY and FULLY YOURS and I will ALWAYS put you first! You are the love of my life Hailey Baldwin and I wouldn't want to spend it with anybody else.
I would include the rest, but it's a damn novel. Baldwin's was shorter and sweeter. She tweeted, "Not sure what I did in life to deserve such happiness but I am so utterly grateful to God for giving me such an incredible person to share my life with! No words could ever express my gratitude."
But America, no gratitude 4 u! Honestly, I can't blame them for wanting to leave the country. (You do keep up with the news, don't you?) It does seem like this moving idea is just an idea and not an ironed-out plan as of yet, so we can hopefully expect this move to happen after their wedding (if that happens).
Another source told Us Weekly the wedding might take place in Canada as well. They're apparently "discussing having a very small wedding," according to the source, and "they want something private, intimate."
The source added, "Justin loves Canada and is at home there. It's a special place for him and he'd love to get married there."
OK, Justin, we get it. You're, like, ~really into~ Canada. I'm not bitter that I wasn't born there or anything.