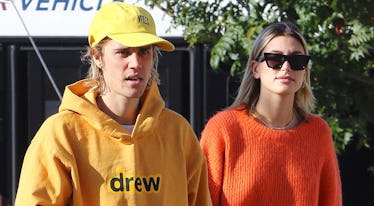 Justin Bieber & Hailey Baldwin Just Took A Huge Step In Their Relationship & I'm Shook
Well well well, it looks like America's favorite celebrity couple is making a big change. That's right, Beliebers: Justin Bieber and Hailey Baldwin have reportedly moved to Canada, so pack your bags because our friends to the north can now boast that the Biebers inhabit their territory. The newlyweds have had a total whirlwind romance since getting back together in June 2018. And now that they've tied the knot (although another ceremony and reception are likely on the horizon), they've reportedly decided to start their new life together by moving to Bieber's homeland.
"Hailey and Justin are living in Waterloo, Ontario, full-time now," a source told Us Weekly. "That's their home base. Justin has a huge home up there — 9,000 square feet, 1,000 acres, on a lake. He loves it up there and so does Hailey."
Obviously, these two aren't afraid to take leaps and bounds when it comes to their relationship, and they certainly seem happy doing so. In each of their respective Instagram posts from Thanksgiving, the Biebers expressed their gratitude for each other, as well as their family. And according to the former teenage heartthrob's post, Thanksgiving was also the first time both of their families got together since they got married.
Clearly it's a busy time for the Biebers, and moving to Canada might have been just what the doctor ordered. After all, since their engagement became public, the two have hardly been able to avoid photographers hounding their every move. Even though they've managed to legally tie the knot privately in a New York City courthouse in September, according to People, they're more open about it now. "They want to openly celebrate their marriage," a source told the publication. "This is why Hailey decided to change her name. She loves being married to Justin. They are still planning a wedding and a religious ceremony." The two officially tied the knot in September, according to the magazine.
Additionally, fans shouldn't be too shocked at the couple's move, since it's something Bieber himself has been wanting to do for a while now. In fact, Us Weekly initially reported that Bieber was looking to move to Canada back in September, the place where he (understandably) feels the most at home. "He's trying to climatize what a normal life should look like," a source told Us Weekly . "He feels most at peace at home."
Looking at the reported home Bieber and Hailey reportedy bought, it makes total sense that the couple would feel at home, indeed. According to the Daily Mail, the newlyweds' new home features a private gym, heated floors, and a two-story wine room. You know, your basic human necessities.
Bieber reportedly bought the home in late August, meaning that he really has been planning on starting his new life as a family man in Canada for a few months. Honestly, good for him! The internet's obsession with the happy couple has only grown since their engagement, so if escaping to Canada makes them happy, more power to 'em! Seriously, congrats to the happy couple on their new giant mansion and future life together. I'll expect my housewarming party invitation in the mail any day now.