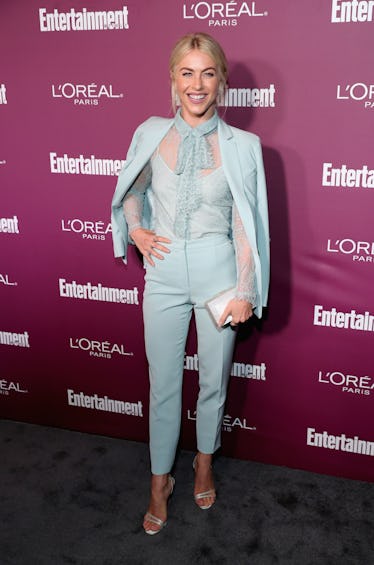 The 5 Things Julianne Hough Always Does To Make The Most Of Her Self-Care Days — EXCLUSIVE
Neilson Barnard/Getty Images Entertainment/Getty Images
There was a time in my life when I actually believed in the whole "no days off" approach. Looking back now, I realize this mindset isn't just foolish; it's also unrealistic. This isn't to say your goals don't take work and dedication, but your body also requires a little rest, and a lot of love. Growing up, one of my inspirations was always Dancing With The Stars judge, Julianne Hough. When I had the opportunity to ask about Julianne Hough's self-care days in a phone interview with Elite Daily, I was surprised to learn that, not only does the 29-year-old take days off, her idea of what it means to truly rest isn't too far off from mine. It just goes to show, when you strip away the A-list status and the designer clothes, celebrities really are just like us.
Being the impressionable teenager that I was while I watched Hough gracefully move across the screen as a coach on DWTS before taking her seat at the judge's table, I always just assumed the star, when she wasn't dancing, had to be in the gym every other free second of the day to look as fantastic as she does. There's no denying the performer has worked, and continues to work hard for her success, but rest days are also vital to Hough because, she tells Elite Daily, they keep her balanced and, most importantly, healthy.
According to Adam Tenforde, M.D., an assistant professor of physical medicine and rehab at Harvard University, recovery is just as important as your training schedule. He told Runner's World,
As much as athletes focus on their volume of training and the speed at which they do workouts, what they do outside of running [or any exercise regimen] is equally important to becoming stronger and more resilient in the future.
It's awesome to be into fitness and have an active relationship with your body, but it's also important to know how to appreciate and nurse your body when it needs to take a breather and unwind. If you need a little inspiration on how to go about doing that, I spoke to Julianne Hough in an exclusive interview with Elite Daily, and she mapped out exactly what the perfect self-care day would look like for her. Not only does it sound lovely, but you can also easily copy her routine for your own self-care days.