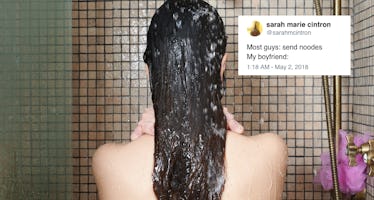 This Guy's Viral Text To His Girlfriend In The Shower Is So Unexpected, You'll LOL
Stocksy/Guille Faingold + Twitter
Every once in a while, the internet flips out over something so entirely unimportant and minuscule that I auto-eye roll upon seeing the article's headline. But then I click on the link, read the story, and find my Grinchy heart warming. Maybe it's because I feel some strange solidarity with the masses? Maybe it's because it's nice not to be arguing over Kanye's tweets? Maybe it's because things go viral for a reason. They go viral because they are funny! Juan Ramos's text to Sarah Cintron definitely falls into that catetogory, and I'm here for it.
Who are Sarah Cintron and Juan Ramos, and why is this text going viral? Let me explain. Sarah Cintron and Juan Ramos are 19-year-old students at the University of Texas at El Paso who became internet famous after a text Ramos sent to Cintron went viral. Why did a regular old boyfriend-girlfriend text chain go viral? Because it involved a giant hair spike. Yes, I just said "giant hair spike." Still with me?
Here's how it all went down: on Wednesday, Cintron texted her boyfriend from the shower — from her iPhone X – letting him know that she was showering. He replied "oh nice" and then followed up with a particular request: "Send me a picture of your hair up in a giant spike lol."