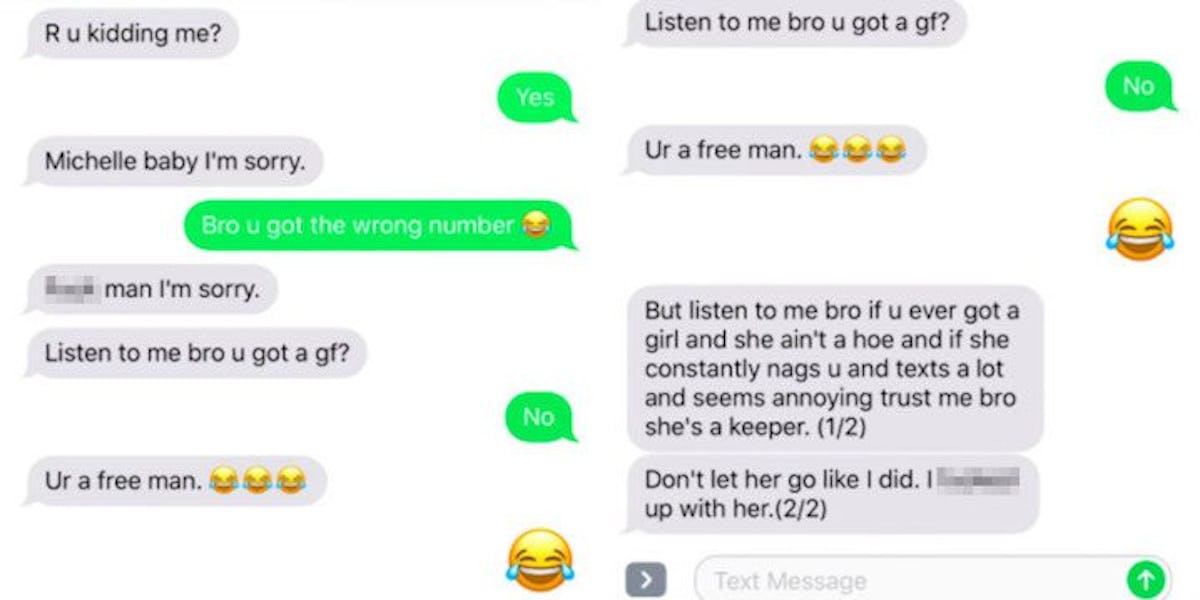 Whole Internet's Looking For Guy's Ex-GF After He Texted Wrong Number To Make Up
Twitter
If your name is Michelle and you're fresh out of a relationship, this article might be about you.
A seemingly remorseful man is currently trying to contact his ex-girlfriend, Michelle, to let her know he "fucked up."
Instead of reaching his ex, he accidentally texted a stranger and vented about the mistakes he's made that led to the supposed downfall in his relationship.
After reading his texts, we can't help but feel a little sorry for him -- and Twitter agrees.
The sorrowful guy texted the wrong number, "Baby?" to which the stranger replied, "Wrong person bro."
After the stranger, aka Farhan, convinced the newly-single dude he wasn't texting Michelle, he quickly apologized and asked if Farhan had a girlfriend of his own.
It turns out he didn't, and the response he received will break your heart.
At first, Michelle's ex jokingly responded and said, "Ur a free man." Seconds later, he got pretty emotional and started giving relationship advice to Farnan that could've saved his own.
He wrote, But listen bro if you ever got a girl and she ain't a hoe and if she constantly nags u and texts a lot and seems annoying trust me bro she's a keeper. Don't let her go like I did. I fucked up with her.
I have no idea what caused their breakup, but his response is making me tear up.
MICHELLE, WHERE ARE YOU?!
After Farhan received the texts, he posted them onto Twitter with hope's he'd find Michelle.
His caption says, "Michelle whoever you are and where ever you are come get your man..."
Since it was posted, it's racked up over 14,000 retweets and 18,000 likes -- but still no sign of Michelle.
Some people are trying to convince the ever-so-elusive Michelle to "have mercy on the guy."
Others are personally reaching out to the distraught dude and trying to cheer him up.
Drake songs are the best for breakups.
"The right one will come to you in time."
Michelle, if you're out there, rest assured your ex-boyfriend does care about you.
Like I said, I'm not sure what caused the breakup, but maybe you should text him and text about it -- I think he realized what he's missing out on.