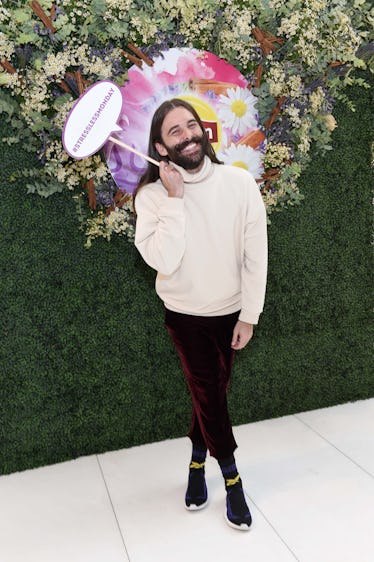 This Major Issue Is What's Driving 'Queer Eye' Star Jonathan Van Ness To The Polls — EXCLUSIVE
Lipton
Your favorite hair-grooming-and-self-care-guru isn't just focused on making you a better person, but making the world a better place. It's no secret to anyone who follows Queer Eye star Jonathan Van Ness' social media accounts that his political views are just as thought out as his skin care routine, which is why I wanted to see what issues are on his mind in the week before the election. And yes, you can believe that Jonathan Van Ness' advice for the 2018 midterms is focused on some big issues.
For Van Ness, the big issues heading into Election Day on Nov. 6 aren't the high-profile races, but rather, the local ones. The Queer Eye star and podcast host is giving his focus to down-ballot races and state legislatures, he tells me in an interview with Elite Daily at Lipton Tea's Stress Less Monday event on Oct. 29. "Attorney generals and state legislatures," he says. "I'm really, really fired up about it."
"State legislatures are a place that Republicans have really used effectively to not only gain power but keep it," he says, citing the issue of voter suppression and non-representative demographics in state legislatures, which are responsible for creating and passing laws at the state level. According to the National Conference of State Legislatures (NCSL), as of October 2018, a whopping two-thirds of state legislatures are controlled by Republicans, even though only 56 percent of seats are held by Republicans. In 25 states, Republicans hold control of both the state legislature and the governor's office. "I would definitely say, keep your eyes on the down-ballot initiatives, know who's running for your attorney generals, know who's running for your state legislatures," Van Ness advises.
With a week and change to go before the election, Van Ness is wearing his heart on his sleeve — or at least, his politics on his nails. When we sit down to chat, one of the first things I notice is that his nails read "Vote Yes On 3" in bright blue letters — and of course, I have to ask if it's in reference to Massachusetts' Question 3 on the 2018 midterm ballot, a veto referendum on whether to uphold a law prohibiting discrimination against transgender individuals. "Yes on 3 is like, 'yes on your rights, yes on your rights!'" he says, energetically clapping his hands to the rhythm of the words. He calls the referendum, which would repeal a state law prohibiting discrimination in public spaces such as bathrooms, public transportation, businesses, and other public areas, a "dangerous blueprint" for other states and conservative groups to challenge trans rights. The law, he says, protects "trans people's rights to public spaces, basically to exist in public spaces that we take for granted all the time as cis[gender] people."
"It really is a very dangerous [measure], and it's something that has to be beaten and it really shouldn't even be there in the first place," he says.
Van Ness is also currently promoting Lipton's Stress Less Tea, which is fortunate because, let's be honest, no matter how much you care about an issue, being deeply invested in politics can be wearing. "A lot of times I think people forget how far we've come in such a short amount of time, and that requires patience," he tells me, referencing the need to acknowledge negotiation and compromise. "That's why self-care and wellness are so... I'm so connected to them, and they are so important to me," he says. He adds that he carves out time for things like brief "morning mindfulness moments" every day.
"To be able to normalize and talk about wellness, to talk about stress and relieve it and be able to talk about it over a cup of tea and be able to connect with people no matter what your political beliefs are, I love that," he continues. "It's important to get these ideas to as many people as you can, because the calmer you are, the more aware you are of irrational, idiot ideas."
But the time for discussion and changing hearts and minds is coming down to the wire. And while he says he's "so proud" of young and first-time voters who are making it to the polls, his biggest advice is for those who aren't able to vote, whether they're ineligible for whatever reason, or just plain forgot to register.
"Just because you're not eligible to vote in this country, or not registered in this country, does not mean you cannot effect change," he states, ticking off ways that you can still participate in American democracy and help the country move forward. "Like, can you take [Election Day] off? Can you carpool, can you get people to the polls? Can you help anyone in your community make their voice heard?"
Because yes, what you do matters. "Does money help make the world go round? Yes, absolutely," he says. "But really, it's your time and your connection."
I'll drink to that. See you at the polls, JVN.