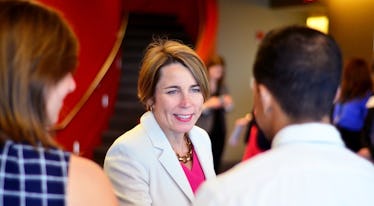 Meet The Woman Standing Up To Trump's Birth Control Rollback: "We'll See Him In Court"
Courtesy of the Office Of AG Maura Healey
When she told President Donald Trump around the time of his inauguration that she would see him in court, Massachusetts Attorney General Maura Healey meant it. It only took her three days to file her first lawsuit against the president. And unlike others who may be trying to find compromises on things like Deferred Action for Childhood Arrivals (DACA), Healey stands out, because she's not willing to give an inch. Especially not when it comes to the Trump administration's recent decision to roll back an Affordable Care Act (ACA) birth control mandate covering upwards 62 million women, a move made under the guise of religious freedom.
Which is why she's suing. Again.
On Oct. 6, Healey filed a complaint to stop the new birth control regulation, which would allow any employer or insurer to deny birth control coverage under the umbrella of religious or moral objection.
"This is just the latest example of an administration that is out of control and won't hesitate to break the law to engage in unconstitutional actions in order to further and enact a reckless and misguided agenda," she says.
Reckless and misguided?
Oh, that's just the beginning.
While she's busy fighting the federal government, the straight-talking AG is also working for her state. She is concurrently advocating for a Massachusetts bill called Contraceptive ACCESS, which, if passed, will guarantee low- or no-cost birth control access for Massachusetts women. "The ACCESS bill," she says, "is an important step in ensuring that every woman, regardless of her economic status has affordable and reliable access to the birth control that is best for her."
ACCESS is likely to pass, and with it, Massachusetts women will be protected. So why sue the federal government on top of everything else?
"I'm going to stand up for the 1.4 million women in Massachusetts and the more than 55 million women in the United States who have access to birth control thanks to the Affordable Care Act," she says.
Healey took the time to discuss reproductive rights, the Trump administration, and holding the line in trying times with Elite Daily.
Elite Daily: You've been a consistent defender of reproductive rights and access to birth control. Why is this an important issue?
Maura Healey: Unfortunately, the president and his administration seem intent on holding women back.
Contraception is a basic preventative health care service. The ability of a woman to access contraception determines how long she stays in school, whether she completes an education, how and when she enters the workforce, and whether she stays in the workforce. Fundamentally, it's an issue of economic empowerment and security.
These are decisions for a woman and her family, not for her boss.
[Trump] seems to think it's a game.
ED: Let's talk about the lawsuit filed against the Trump administration about their rollback of the Obamacare birth control rule. What are the grounds you are filing this suit on?
MH: What [Trump] has done is unconstitutional and unlawful.
I want to be clear: what this rule is not about is religious freedom, because those protections already exist. The Supreme Court has already weighed in on this [in Burwell v. Hobby Lobby, which allows exemptions on religious grounds for private corporations].
In fact, the ACA built in protections for religious freedom. [Trump's] rule says that an employer, based on his religious or moral objection, can withhold access to contraception for women. That violates equal protection because it discriminates against women. [The rule] is taking a basic right away from them, while leaving coverage for men unchanged.
You can't put an employer's religious beliefs over the rights of the employees — which also violates the establishment clause.
Finally, it violates something called the Administrative Procedures Act (APA). This is a claim that we've brought time and time again in our various suits against the Trump administration, where the agency — here, Health and Human Services — is taking away a right without giving the opportunity for public comment, without any careful review. They decided this behind closed doors, and it's effectively immediately. Therefore, it's a violation of the APA.
ED: Do you have any concerns about the suit's success?
MH: I'm confident about our lawsuit. What [Trump] has done is unconstitutional. It's illegal, and frankly, it's another reflection of a president and an administration that continues to attack women.
ED: Do you feel like your role as a state attorney general has changed since Trump took office?
MH: Our role hasn't changed at all. We've always had the power to take legal action on behalf of our states and residents. We are ensuring that nobody operates above the law. What has changed is the volume. Day in and day out, the Trump administration takes actions that make good on unconstitutional or unlawful campaign promises. We're just going to continue to be there to hold the line and make sure that the Constitution is respected and enforced.
That said, the role of state AGs has never been more important. We're uniquely positioned to hold this administration accountable, and we're going to continue doing that, because unfortunately we have a president and an administration that continues to show callous disregard for the law.
Somebody needs to be there to defend our residents, our students, consumers, the environment, because this administration is upending so many long-standing protections.
Nobody operates above the law.
ED: Why do you think the Trump administration goes after such vulnerable populations?
MH: [Trump] seems to think it's a game.
The president and administration are hitting a very broad group of people. I mean, look at health care — the birth control rollback, [stopping] cost-sharing payments, which will have the effect of jacking rates up for millions of people and destabilizing the markets. He's taking actions that are hurting everyone.
He is somebody who thinks he and his administration are above law.
When they don't like a rule, they ignore it. Just look at Betsy DeVos, deciding not to implement the borrow defense rules for victims of predatory [loan] practices.
And if they don't get the action they want out of Congress, they just issue these executive orders without authority.
ED: It hasn't even been a year since he was inaugurated. Are you and other state AGs just playing damage control, or is there a light at the end of the tunnel?
MH: If Trump wants to continue to discriminate and ignore civil rights, we'll see him in court. State attorneys general will be prepared to take action as we think appropriate on behalf of our states.
What is also important is states moving ahead with a strong agenda. [States have] to build an agenda that is affirmative and looking to the future while holding the line on the federal level.
The Constitution does not begin with "I the President."
ED: What advice would you give Elite Daily readers?
MH: It is important to continue to stay engaged and not get worn down and realize that we've had challenging times in our country before.
I encourage people to run for office. I encourage women to run for office. I encourage people to read and share real news and to really continue to get involved.
And don't get worn down or distracted by boneheaded tweets that come out of the Oval Office on a regular basis.
The Constitution does not begin with "I the president." It begins with "We the people." Now is the time for people to step forward.
This interview has been edited and condensed for brevity.