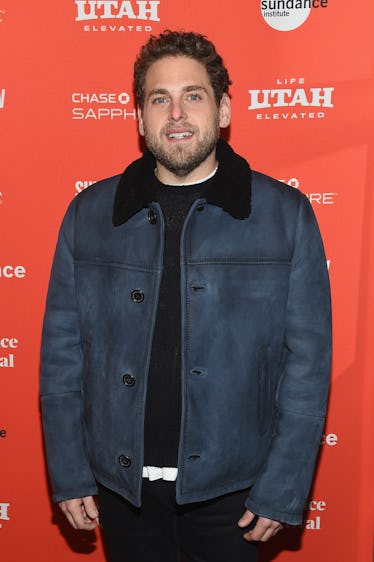 Jonah Hill Looks Completely Unrecognizable In His New Movie At Sundance
Nicholas Hunt/Getty Images Entertainment/Getty Images
On Friday, Jan. 19, Elite Daily attended a screening of Gus Van Sant's film Don't Worry, He Won't Get Far On Foot starring Joaquin Phoenix, Jonah Hill, Rooney Mara, and Jack Black. The movie premiered at Sundance in Park City, Utah, and it's a great watch for anyone who is able to visit the film festival this January. Not only is Phoenix's performance spectacular, but Jonah Hill's character in Don't Worry, He Wont Get Far On Foot will have you cheering for him to win an Oscar for Best Supporting Role.
The movie is based on the autobiography Don't Worry, He Won't Get Far On Foot by John Callahan. It tells the story of Callahan, an alcoholic who becomes paralyzed after getting in a car accident, and his emotional journey to find solace through drawing. Callahan (played by Phoenix) attends Alcoholics Anonymous therapy sessions and forms a special relationship with the group leader, Donnie (played by Jonah Hill). Donnie is a flamboyant, spiritual soul who refers to his group members as "piglets" and regularly reminds Callahan to just "drink water." Hill's long, blonde hair and beard in the film make him look absolutely unrecognizable in the role.
Don't Worry, He Won't Get Far On Foot is funny at times, but also has a handful of heart-wrenching moments. In one scene, Callahan struggles to reach a bottle of vodka on the top shelf of his kitchen and breaks down in tears the moment he realizes he's unable to knock it off. In another, Donnie recalls a time his lover came home to find him having a seizure, ultimately explaining the reason he pictures his lover's face as motivation to fight on. In the trailer below, Donnie is heard telling Callahan, "This doesn't just go away; you have to fight with it, or you'll die."
Fans can't stop talking about Jonah Hill's performance on Twitter, and many believe he should earn major recognition for the role:
Hill attended the post-premiere Q&A on Friday, Jan. 19, along with 11 members of Callahan's family.
Although the acting in Don't Worry, He Won't Get Far On Foot has received glowing reviews, not everyone is happy with the film. The Ruderman Family Foundation, an organization devoted to the inclusion of children and adults with disabilities, criticized director Gus Van Sant for his decision to cast Joaquin Phoenix, an able-bodied person, in the role of a quadriplegic instead of casting an actor with a disability. The foundation released the following statement from President Jay Ruderman on their website:
It was a mistake for director Gus Van Sant to cast Joaquin Phoenix in his upcoming biopic about disabled cartoonist John Callahan. The time has come for the entertainment industry to audition and cast actors with disabilities to play leading roles portraying disability. As we enter 2018, American society no longer finds it acceptable for white actors to play black, Asian, or Hispanic characters. It is equally unacceptable and offensive for able-bodied actors to be cast inauthentically in the roles of characters with disabilities.
Many people took to Twitter to agree with Ruderman's statement and spread hashtags such as #NothingAboutUsWithoutUs to fight for representation of the disabled community in entertainment.
Elite Daily reached out to the film's team for comment on the backlash, but did not hear back at the time of publication.
In addition to the criticism from the disabled community, the film has its fair share of faults — the editing, at times, is a little wonky and Rooney Mara has a few cringeworthy scenes as Callahan's therapist/future lover. Regardless, all movie lovers attending Sundance should check out this — and the amazing film lineup.