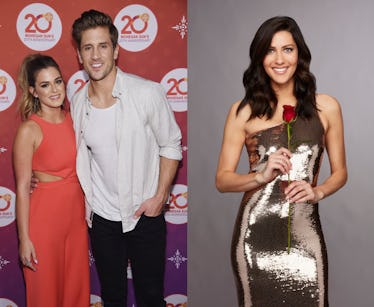 JoJo & Jordan's Comments About Becca's 'Bachelorette' Season Will Make You Believe In Love
Dimitrios Kambouris/Getty Images Entertainment/Getty Images / ABC
Further emphasizing that the Bachelorette sisterhood is infinitely better than the Bachelor fraternity, the three past Bachelorettes — all still in their relationships originally formed on TV — blessed the beginning of Becca Kufrin's season last week with sage and well wishes. Just like how any chat with your girlfriends goes, right? With Season 14 of The Bachelorette now in full swing, each past Bachelorette probably deals with the PTSD of watching by predicting which guy is best for the latest leading lady. Bachelorette couple JoJo Fletcher and Jordan Rodgers are no exception, but JoJo and Jordan's comments about Becca's Bachelorette season will make you even more eager for Becca and her match to join the Bachelorette legacy.
Recently speaking to Entertainment Tonight at iHeart Radio's KIIS-FM Wango Tango Concert, Season 12 Bachelorette JoJo and her fiancé Jordan confirmed that they still don't have a wedding date in place. You do you, guys. However, they certainly don't mind revisiting where it all began for them. JoJo told ET that visiting the Bachelor mansion again was a mix of emotions, saying:
I get these weird feelings every time I go back to that. I had the best time of my life filming. There were a lot of ups and downs, but we always talk about this — just filming it was probably the coolest experience ever, so you always go back and feel excited. It was fun talking to Becca. She had a blast. We already know she's engaged.
Based on her Twitter page, JoJo isn't a Bachelorette live commentator as she might have been for her own season, but she and Jordan are some of the many fans keeping an eye on first impression rose recipient Garrett. As JoJo pointed out in the season premiere, she, Kaitlyn Bristowe, and Rachel Lindsay all became engaged to the men who received their first impression roses. Such a stellar record of women's intuition has put viewers' spotlights on Garrett, even despite his recent Instagram controversy. The medical sales rep from Reno was one of JoJo and Jordan's favorites during the premiere, but they told ET that they're also supporting Blake and Leo (for commentary, of course — in Episode 1, he did make a realtor joke that house flipper JoJo probably appreciated).
Accompanying the couple at the concert was JoJo's Bachelor BFF Becca Tilley, who pulled a Nick Viall and joined Ben Higgins' Bachelor season after initially appearing in Chris Soules' group of women. She weighed in on Garrett's social media snafu for ET, saying:
The thing is, none of us are perfect and I really liked his apology. It's like, 'I can only do better and I've learned.' It's a tough spot.
JoJo and Jordan haven't received much flak for any Instagram blunders, but their low-key approach to their life together definitely has me smiling. Both JoJo and Season 11 Bachelorette Kaitlyn have acted fairly casual about wedding planning, but JoJo's view of taking their time makes total sense. She shared:
We're just take it at our own speed, and when it's right, it's right and when life is a little more settled. I think right now we're really enjoying life, so why mess it up? Why stress ourselves out right now?
I'd rather have long-lasting Bachelor Nation couples than an influx of rushed weddings, so JoJo and Jordan's focus on enjoying their time together is definitely admirable. Hopefully, the success the pair has had, along with that of the franchise's other couples, will rub off on Becca's relationship. If not, I'm sure that JoJo will send Becca a good supply of sage to purify herself.
The Bachelorette returns on Monday, June 4, at 8 p.m. ET on ABC.