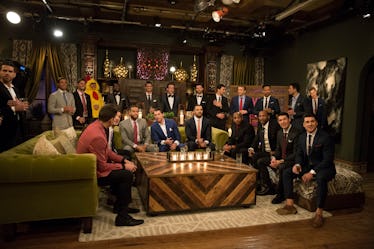 The Guy Who Got Becca's First Impression Rose Is Clearly A Real "Catch"
ABC
Season 14 of The Bachelorette is finally here, and I'm so ready to watch Becca Kufrin's journey of love and, TBH, redemption. Arie Luyendyk Jr. and Lauren Burnham may have official wedding plans now, but I have more important things on my mind, like whether Becca's first impression skills were on point and she picked a top-notch guy to receive her first rose. The Bachelor mansion is lit and the games have begun, so let's get to our first matter of business: Who got Becca's first impression rose?
In the past three years of The Bachelorette, the receivers of the first impression rose have turned out to be true winners in the grand scheme of things. Kaitlyn Bristowe, JoJo Fletcher, and Rachel Lindsay all awarded their first impression roses to their now-fiancés, which only confirms that a woman's intuition is way stronger than a man's — sorry, guys! Needless to say, this sweet pattern definitely put extra scrutiny on Becca's own first impression pick. Did she continue the trend or break the streak? We won't know for sure until the season finale at the end of the summer, but we'll need to keep a close eye on the receiver of Becca's first impression rose.
Although I'm a little partial to stuntman contestant Leo and his luscious locks, Becca definitely convinced me that she has a keen eye for what men are on The Bachelorette for the right reasons. Her first impression rose ultimately went to 29-year-old Garrett, a medical sales rep from Reno, Nevada, and the choice was a no-brainer. Seeing as Becca is a sweet, family-oriented gal from Minnesota (shout-out to Uncle Gary!), settling down with a nice guy and having kids to important to her, and Garrett played up to that desire right away.
One of my most pondered mysteries in life is how Bachelorette contestants approach producers with insane entrance requests, but Garrett somehow cracked that code and arrived at the mansion in a minivan. The vehicle of choice made sense when he spoke to Becca about wanting to be a great dad and husband. The car even came equipped with soccer balls and car seats. Although Becca clearly loved the entrance, I was too busy recovering from my own heart palpitations to hear her reply to him — at first glance, who wouldn't want to be the soccer mom to Garrett's dorky dad?
Garrett continued to sweep Becca off her feet throughout the night's cocktail party, even taking her to fish in the mansion's pool in honor of his fly fishing hobby. This particularly wins over Becca, who shares in an interview that Garrett reminds her of Minnesota. On last season of The Bachelor, Becca losing her dad several years ago was a key factor of her hometown date, and my guess is that we'll hear about him even more throughout this season. Garrett's love of fly fishing and hunting brought back Becca's memories of doing the same with her dad, so it seems that Garrett has already swept up the hypothetical "Uncle Gary approves" brownie points.
As his intro package made clear, Garrett is endearingly proud of his goofy nature. He's perfected a (admittedly dated) Chris Farley impression and, in a promo video for the season, he cites Dumb and Dumber as his favorite movie. According to his ABC bio, he's a small town boy originally from Central California, and apart from a shared affinity for dad jokes, he doesn't remind me of Arie at all. That's a good sign, right?
Garrett scoring the first impression rose doesn't necessarily mean that an one-on-one date is imminent, but it certainly bodes well for his chances in the quest to win Becca's heart. We'll have to wait and see if the two's great first connection grows even stronger.
The Bachelorette returns on Monday, June 4, at 8 p.m. ET on ABC.