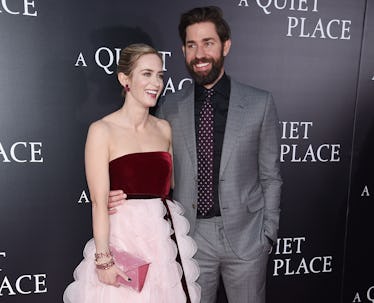 Here's Why You'll Always See John Krasinski Wrap His Whole Arm Around Emily Blunt's Waist
Jamie McCarthy/Getty Images Entertainment/Getty Images
People are freaking out after Emily Blunt and John Krasinski appeared on the red carpet for the premier of their movie, A Quiet Place. The husband and wife duo starred alongside one another as spouses in the film that Krasinski co-wrote and directed. The movie is about a family of four who have to move through the world in silence to hide from creatures who hunt them by sound. While the real-life couple lives in Hollywood, and not a dystopian nightmare, experts say that John Krasinski and Emily Blunt's body language reflects their ability to work together and their strong devotion to one another.
Elite Daily connected with Traci Brown, a body language expert and author of Persuasion Points, for some insight as to whether this power couple's relationship really is as amazing as it seems.
After analyzing some photographs of the couples taken over the years, Brown came away with rave reviews. "One of the things that stands out is that, in Hollywood, it's so rare to see people who can effectively share the spotlight, but that's what they're doing which is so cool," she says. In her line of work, she says she doesn't often come across famous couples who seem to genuinely work so well together, and who seem to have so much fun doing it.
1. They're Perfect For One Another
Brown says that the way Blunt reaches for Krasinski when they are together shows that "these two are really in love, they're perfect for each other."
"No one is leaving anyone behind," Brown elaborates. "They're moving as a team, together toward a common goal — even if the common goal is only to get their picture taken."
She says that even under the spotlight, the two stay super close together, which demonstrates they have a 50-50 partnership. They're completely comfortable sharing the spotlight and don't feel the need to compete with one another whatsoever. Could this couple be setting a new standard for Hollywood?
2. Their Love Is Consistent
Brown says the way Krasinski encircles Blunt's waist in multiple photographs is a way of him saying, "'You are mine, girl.'"
This pose appears in multiple photographs from the premier, which she says demonstrates that they are a really consistent couple who feel comfortable in one another's presence and proud to be together. He wants to show her off, and she is completely fine with staying tethered to him.
3. This Is The Real Deal
After looking at multiple photographs of Krasinski and Blunt, Brown notes that the couple is "always looking one another in the eye."
"This is the real deal," she says, noting how joyful the two of them are together. The body language expert says the truth of their relationship is evident in the genuine nature of Krasinski's smile.
"He's super happy, it's a real smile," says Brown. "His eyes are lit up which is the key to a real smile."
Brown says that unlike some Hollywood couples who only smile for the cameras, Blunt and Krasinski aren't just going through the motions of a real relationship. "Genuine" is the word Brown keeps coming back to for this celebrity couple, a quality she notes is very rare in Hollywood.
4. Even In Public, They Can Have Private Moments
Another sign of the strength of this relationship is the way Blunt smiles when Krasinski whispers in her ear.
"They can have a private moment together in public," says Brown. Even when the cameras are flashing, nothing matters more to them than the other person.
This couple seems to be so entertained by one another that they must have a good thing going. That makes this Krasinski-Blunt union a #Goal for all of us.