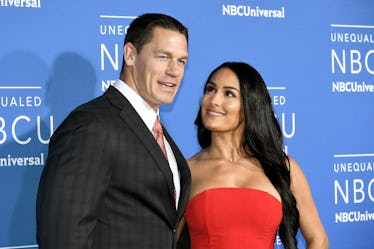 John Cena Just Admitted He May Get Surgery In Order To Have Kids With Nikki Bella
Dia Dipasupil/Getty Images Entertainment/Getty Images
Looks like John Cena really was willing to say and do just about anything to win back on-again (I think?) fiancé, Nikki Bella. TBH, it's hard to keep up. The WWE pro wrestlers first announced their engagement-ending split back in April, after six years together and just weeks before their May 5 nuptials, before reuniting shortly after. They just couldn't quit each other. And it looks like we may have a clue as to what brought the lovebirds back together. In a truly shocking turn of events, John Cena may reverse his vasectomy to make it work with Bella. Despite Cena's long and very public insistence that fatherhood was not in the cards, the Blockers alum has flip-flopped on his family plans.
After the birth of her twin sister Brie Bella's now 1-year-old daughter, Birdie, Nikki Bella expressed her own desire for children. A change of heart reportedly drove her breakup with Cena. In an episode of her E! series, Total Bellas, Nikki breaks down over the conflict. "I was thinking of getting back into therapy," she tells John. "I was doing so well with [not having children]. When I did the therapy back in the day, I really thought I was OK not being a mom. It's just been growing in me and I've just been trying to push it to the side."
Fast forward a few months, and it looks like Bella can skip the therapy session. It was ultimately Cena that compromised. During an appearance on the Today show in May, his parenting phobia seemed long gone. He confessed:
If you look at me five years ago: stubborn, selfish, self-focused, life had always been about me. And then slowly over time this woman waltzes in and just steals my heart, and whether I wanna realize it or not, she becomes my number one. So I'm willing to go back on all of these things that I say, and a lot of them I would hang onto just out of stubbornness. 'I won't have kids,' and it took a very strong look in the mirror for me to be like, 'Why? This is person is my number one and it's something that's very valuable to her. Of course we can do this, and I think it would be wonderful.
It was in Sunday's episode of Total Bellas that fans finally got a glimpse of the motivation behind Cena's change of heart, as their kid conversation came to a head. Despite his own insecurity that the problem could be deeper, the pair comes to a compromise. "I want to marry you, and relationship and marriage especially is about sacrifice, and I will make that sacrifice for you. I will give you a child."
There's just one major step for Cena before he can go ahead and bring that promise to fruition — surgery. "I physically can't have kids," he says in the episode. "So, I'm also telling you that I'm willing to have surgery and then still go through with being a dad."
And while it looks like they've sort of rekinded things, they're not quite there. Yet, at least. ET reports, there's still tension over Cena's work schedule and a four-month commitment filming The Janson Detective abroad. A source notes, "They're not the kind of couple where it's 'absence makes the heart grow fonder;' they're more 'out of sight, out of mind,' so this distance isn't going to be good for them."
The source continues:
They love each other very much and can't imagine themselves with anyone else. They want to be together and be happy, but their priority is very much on their careers right now, and they're both on the same page with that.
After navigating (and compromising!) on such a tricky lifestyle disparity, like whether to be parents or not, my guess is they can work through some scheduling conflicts, too. But whether it's a happy ending or not, it's all about to play out on our TV screens. Stay tuned, people.