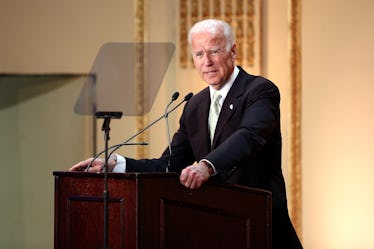 Joe Biden Responds To Las Vegas Shooting: "How Long Do We Let Gun Violence Tear Families Apart?"
Monica Schipper/Getty Images Entertainment/Getty Images
On Sunday, Oct. 1, a gunman opened fire on concertgoers attending the Route 91 Harvest Festival at a little after 10 p.m. local time. According to Las Vegas Police Department Sheriff Joe Lombardo, at least 58 individuals were killed in the shooting, with over 500 more injured. Since news of the shooting broke, several U.S. officials have expressed their condolences following the incident, and among them is the former U.S. vice president. Joe Biden's response to the Las Vegas shooting, while sympathetic, also addresses an important issue at hand: gun violence.
His tweets read,
Appalled by the senseless loss of life in Las Vegas. Jill and I hold all those affected and grieving in our hearts.
How long do we let gun violence tear families apart? Enough. Congress & the WH should act now to save lives. There's no excuse for inaction.
Former President Barack Obama also responded with a touching tweet honoring the victims. He said,
Michelle & I are praying for the victims in Las Vegas. Our thoughts are with their families & everyone enduring another senseless tragedy.
President Donald Trump, on the other hand, took a bit of a different approach in his address to the nation on Oct. 2. While expressing his sympathy to the shooting victims and their families, Trump's address had a more religious tone. During the speech, he said,
Scripture teaches us the Lord is close to the broken hearted and saves those who are crushed in spirit. We seek comfort in those words, for we know that God lives in the hearts of those who grieve.
He continued,
To the wounded who are now recovering in hospitals, we are praying for full and speedy recovery and pledge to you our support from this day forward.
Trump went on to thank the speed and care with which the first responders acted and to call on the American people to unify in the face of violence. He ended is address on a hopeful note:
In times such as these, I know we are searching for some kind of meaning in the chaos some kind of light in the darkness the answers do not come easy. But we can take solace knowing that even the darkest space can be brightened by a single light, and even the most terrible despair can be illuminated by a single ray of hope.
What's different between Trump's response and Biden's response is that Biden offers a call to action against gun violence, an issue which is inherently at the heart of the Las Vegas shooting, considering the gunman was found to be in possession of at least "10 rifles," according to Sheriff Lombardo.
Some people have taken to Twitter to called Trump out on the lack of mention of anything related to gun violence or gun control.
It seems Trump has a history of changing his stance on gun control. In April 2015, at a forum for the National Rifle Association (NRA), Trump said, "I love the NRA. I love the Second Amendment." Later in the address, he continued, "I promise you one thing, if I run for president and if I win, the Second Amendment will be totally protected, that I can tell you."
However, back in 2012, following the Newtown school shooting, Trump tweeted in support of then-President Barack Obama's remarks regarding the shooting: "President Obama spoke for me and every American in his remarks in #Newtown Connecticut." At the time, Obama firmly expressed the need for gun control.
President Trump also failed to answer reporters who asked, "Sir, is this domestic terrorism?" and "Is it time for new gun control laws?"
Will the president's stance change again following the Las Vegas shooting? Only time will tell.
Our thoughts are with the victims of the shooting and their loved ones. If you're looking for ways to help, click here.