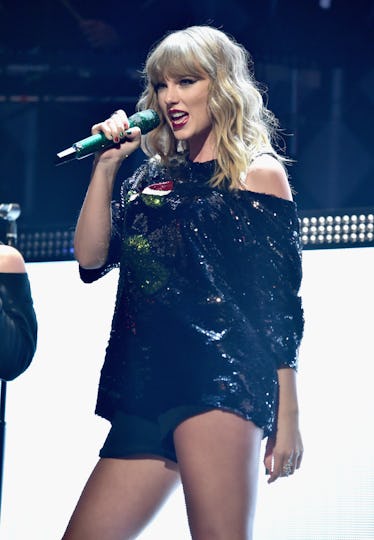 Taylor Swift Is Reportedly Bringing Joe Alwyn On Tour, So Get Your Tickets ASAP
Theo Wargo/Getty Images Entertainment/Getty Images
Can we talk about the perks of dating pop singer Taylor Swift? Because I'm pretty sure that Joe Alwyn is one lucky dude. Aside from having the beaufitul Tay-Tay on his arm and having love songs written about their relationship (totally NBD), Alwyn will apparently be traveling worldwide with Taylor soon enough. That's right, Joe Alwyn will go on tour with Taylor Swift, according to some recent reports, and honestly, could you get any cuter than that? (The answer is no, obviously.)
According to Us Weekly, a source revealed that Alwyn will be supporting his woman along her world tour. The source said,
[Taylor's] gonna be on tour soon and Joe will be there and she realized there's no point in not living her life ... All her friends know about their relationship anyway. She feels confident in their relationship and Joe really loves her. She really thinks he might be the one.
Can we get an "Awww!" right now please?
The singer has been reportedly dating the British actor since as early as last year, and even though they keep the details of their relationship relatively low-key, they've recently been seen out and about more and more together lately – and we are so here for it.
Just last week on Dec. 8, Swift and Alwyn were spotted by paparazzi leaving Jingle Ball in New York together, and the two blonde bombshells looked cozy side-by-side, walking and holding hands – something the media very rarely gets glimpses of when it comes to these two:
And soon after that, the world got to watch the two cuties bopping around to an Ed Sheeran performance on Dec. 10 at the Capital FM Jingle Bell Ball in London. While Sheeran was busy crooning "Perfect," Taylor and Joe were perfectly swaying together to the music, and the video (though not the best quality) is honestly cute AF:
And here's a snapshot of the two, gazing into each other's eyes like two adorably preppy soulmates:
Melting my cold, black heart, you two.
And maybe it's a good thing that these two will be together while Taylor tours, because it seems like Taylor and Joe are very busy people, but are definitely trying to make their relationship a priority, and if that's not #couplegoals, I don't know what is.
This relationship seems unlike Taylor's past boyfriends (Hiddleswift, see yourself out the door please), and apparently even told her fans at her secret listening sessions that "Gorgeous," off her new album Reputation, was 100 percent about Joe Alwyn, and told those select fans to share the news with anyone and everyone:
Yes, girl! Everyone, shout it from the rooftops! TAYLOR'S IN LOVE AND SHE DOESN'T CARE WHO KNOWS IT!
So I think you could definitely say that Joe Alwyn is making Taylor a changed woman, and that bringing him on tour with her is a major step in the couple's relationship.
Another milestone the couple will be achieving? According to sources, Taylor Swift and Joe Alwyn will be spending the holidays together, which is like, kind of huge. You don't spend Christmas morning, exchanging gifts, and wearing Santa hats with just anyone, so this would make things pretty serious. According to People, a source said that the couple is "happier than ever" and that Taylor has "been been more busy with work and traveling, but Joe continues to be supportive and great."
So I think we've learned that Taylor and Joe are going to have a pretty epic holiday season, followed by an epic worldwide tour, where they will presumably live happily ever after. Ladies, take a page from Taylor. Get you a man who is sweet, makes you happy, and supports your career.