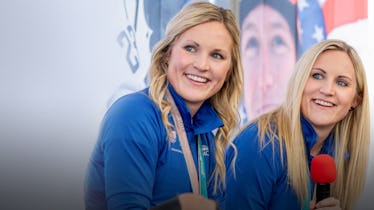 These Members Of The U.S. Women's Hockey Team Aren't Done Pushing For Gender Equity
Comcast
On Feb. 22 in PyeongChang, South Korea, the U.S. women's hockey team was down one goal against their rivals, the Canadian team, in the final game at the Olympics. With just 7 minutes left, Monique Lamoureux-Morando scored to tie the game, sending it into overtime. The game eventually headed into a shootout, and with a dramatic flair, Monique's twin sister, Jocelyne Lamoureux-Davidson, scored to win the gold medal. But for this team, that gold medal was just a means to an end in their ongoing fight for equality in the sport, and Jocelyne and Monique Lamoureux of USA Hockey are making big moves to continue to support gender equity.
"I don't want to be remembered just for a shootout goal and winning a gold medal," Jocelyne tells me in an interview for Elite Daily at 30 Rockefeller Center in New York City. "It's about impacting others and being a positive voice and a positive role model for everybody, but especially young girls."
Jocelyne and Monique were at 30 Rock to commemorate their new partnership with Comcast, where they will be serving as ambassadors for the company's corporate values initiatives — i.e. programs that give back to various communities and support diversity, inclusion, and gender equity.
As the twins see it, their involvement with Comcast just allows them to have a bigger platform to "create more positive changes," which has been a passion of theirs since participating in a fight for their own equality.
Last spring, the women's national hockey team threatened to boycott the world championship tournament as part of their demands for fair wages and equal treatment to the men's team. Beyond pushing for their own increased salaries, the women wanted to see more infrastructure put in place for girls' hockey to help grow the sport for women in the future. After a two-week boycott, USA Hockey reached a deal with the team "that will result in groundbreaking support for the U.S. Women's National Team program over the course of the next four years," per a joint press release. With that, the women participated in the world championship tournament, won it, and, 11 months later, won gold at the Olympics.
Being part of those negotiations, Monique tells me, "really opened our eyes, not just to what we were experiencing within the national team, but what women have to go through in sport and in life."
Jocelyne and Monique grew up in a unique household in North Dakota. The twins have four older brothers, all of whom also went on to play hockey professionally or, at least, up to the college level. It was a very gender-equal upbringing, with their parents supporting them all playing sports and having the same opportunities. With that, it wasn't until they got to college that they really began to notice differences in how they were treated and the opportunities they were afforded due to their gender.
"When we started experiencing the inequalities that were within USA Hockey, it didn't take us long to say, 'Hey, this isn't right. This isn't how it should be,'" Jocelyne says. "As we went through the negotiations, it gave us a very eye-opening experience as to what a lot of people and a lot of women deal with on a day-to-day basis. Like Monique said, it opened our eyes to a brand new passion."
It was this experience that has made them want to do more to give back to communities and to push for equality in sports and beyond.
The twins also believe in the ability of sports to empower people, citing research that people — and especially women — who play sports have a high correlation to success both in school and in their careers. That is partially why they're so intent on increasing girls' participation in hockey and other sports.
"Using sport as a vessel to teach young girls and women values — being a good teammate, working hard, being accountable, showing up on time, being responsible — those are things that all transcend well beyond the specific sport you're playing. Those are lessons that are lifelong," Monique says.
When it comes to their own hockey experience, the next step they're pushing for is to increase the visibility of women's hockey outside of the Olympics. There are currently two leagues for women's hockey — the National Women's Hockey League (NWHL), which is American, and the Canadian Women's Hockey League (CWHL) — that compete regularly, and the Lamoureux twins hope that those two leagues can be combined to make it one league that's bigger and more exciting — and thus, more visible. Should the two leagues combine, NHL commissioner Gary Bettman has indicated, the men's league would be more interested in taking the women's teams under their more-established wing.
So far, one NHL team, the New Jersey Devils (incidentally, the team I root for), partnered with an NWHL team, the Metropolitan Riveters, to support the women's league. The NHL is already well-established with fans and resources, so it seems to be a good fit to help women's hockey. And while the women's hockey players are happy to keep up their fight, there is room for men to help them out — especially when the men have had a couple of decades' head-start on establishing a league.
"Gender equality is not just a woman's problem, it's everybody's problem, and everybody can be part of the solution," Jocelyne says. "If you want to see equity in all walks of life, everyone has to be a part of that conversation."