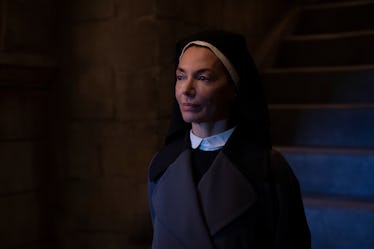 Joanne Whalley Breaks Down Why 'Daredevil' Season 3 Was So Good – EXCLUSIVE
Netflix
The Netflix Marvel universe suffered a blow this past October when Iron Fist and Luke Cage were both canceled. But the release of Daredevil Season 3 seems to have been a phoenix rising from the ashes, as the series put out one of its strongest stories to date. One of the best new additions to the story was Matt Murdock's mother, Sister Maggie. Speaking with Elite Daily, the actress who plays her, Joanne Whalley, talks Daredevil Season 3 and explains why she felt the show remains as good as when it debuted in 2015.
The show kept Sister Maggie's relationship to Matt a secret until deep into the season. For Whalley, having the foreknowledge of what was to come was a balancing act: "It's always a tough one because you've got to know a certain amount. But when we were shooting, it was in sequence. So it was quite nice to have the journey unfold as it happened. It keeps it very fresh and in the moment."
Daredevil's bringing aboard Sister Maggie is part and parcel with the show's Catholic leanings. Whalley says the character's faith is part of her core. "We all have things that we lean on, whether it's a religion or a way of doing things, or a tradition. And this, her religion has been the driving force in her life. It's her guide, her rock, the tool that makes sense of the world for her."
For Whalley, who had never done a Marvel series, or even read a comic book before being cast, joining the show turned out to be a great fit. She explains, "In the[beginning] you don't see Sister Maggie anywhere but with Matt — so my intro into this new world was pretty much one on one with Charlie [Cox] in a very small crypt under the church. It was quite a while before they let me out. (Laughs) ...[W]e have a similar approach, we just like get right into it and the time is short, so you have to go there and fast otherwise you're wasting your opportunity to explore you know?"
According to her, Charlie Cox's commitment to his role as the show's "captain" is part of what makes the production work so smoothly. She tells me, "He was such — apart from the actual work-work — just such a great captain of the ship. Even before we started shooting when I signed on to do it and everything I got the most lovely text message from him, saying 'Hi I'm Charlie and welcome to the show.' He was just so forthcoming and open.
Whalley also enjoyed working with Deborah Ann Woll, who plays Karen Page. She gushes, "Oh [Woll's] great. Our scenes were quite intense as well. And she's another one, just, her intelligence shines through."
But according to Whalley, what really makes the show work are the scripts. "I just loved my whole experience on it, to be honest. And we were so lucky we had such great material. It sets you off on the right foot because you know you've got such great material to bring to life. If you start off with that, it brings out the best in people, I think," she says.
Whalley says she doesn't know if Sister Maggie will be back for a potential Season 4, but she hopes so. Showrunner Eric Oleson revealed recently he'd submitted his pitch for the next season, so hopefully fans will find out soon.