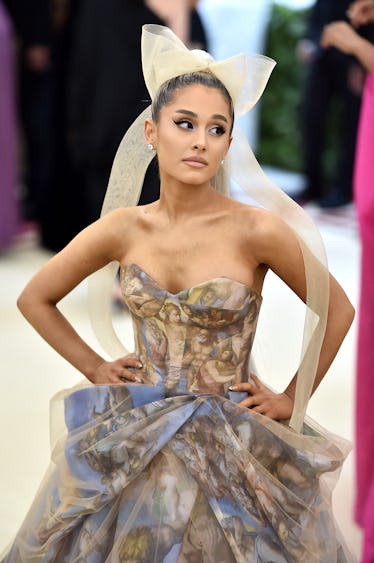 Ariana Grande's Mom's Reaction To "Thank U, Next" Hints She Never Approved Of Ariana & Pete
Theo Wargo/Getty Images Entertainment/Getty Images
Well, well, well. The truth comes out. If you've been paying any attention to music, the radio, or pop culture, then you've surely caught wind about Ariana Grande's latest album Thank U, Next. Her most recent body of work was released on Friday, Feb. 8, though she previously debuted a single by the same name. The song famously calls out Ari's ex-boyfriends in its opening lyrics, making "Thank U, Next" one of her most shocking and personal tracks. Now, fans know all about Ari's mother Joan Grande's reaction to "Thank U, Next" and it's pretty telling.
In the first four lines of "Thank U, Next" Grande references her past boyfriends in this order: Big Sean, Ricky Alvarez, Pete Davidson, and her late boyfriend Mac Miller (aka, Malcolm McCormick). She famously sings, "Thought I'd end up with Sean / But he wasn't a match / Wrote some songs about Ricky / Now I listen and laugh / Even almost got married / And for Pete, I'm so thankful / Wish I could say 'thank you' to Malcolm / 'Cause he was an angel."
The song dropped hot on the heels of Ari's famous breakup with her ex-fiancé Pete Davidson. In fact, both he and Grande documented her creating Thank U, Next's older sister album, Sweetener, which even features a song titled "Pete Davidson." Thanks to a new interview Grande did with Zach Sang on the Zach Sang Show, it sounds like Grande's mother might have been low-key crossing her fingers for her daughter's relationship to end, anyway.
Grande talked about how difficult it was to decide whether or not to drop literal names of her exes in her lyrics. Her relationship with Davidson was on the rocks at the time she wrote "Thank U, Next," and they ultimately officially called it quits prior to its release. Grande explained she had a few versions of the song ready to go, one that included names, one that didn't etc., but took the risk of releasing the final version we know and love today — names included. Ari told Sang she was nervous for people to hear it at first, saying she knew "as soon as people heard the names, they were going to be like 'Run that back one more time. Like, what the f*ck is she doing?'"
While the world was busy letting out a collective gasp, Joan was somewhere loving it. According to Ariana, her mom has "bit her tongue" when it came to her past relationships, leading some fans to believe she might not have been a huge fan of Davidson.
"My mom was like... she's never been happier," Ariana explained.
My mom was just like, 'Oh, this is the best song I've ever heard in my life.' Cause anybody that knows me knows how Joan Grande has felt about any relationship I've ever been in. And she's been so supportive and patient and bit her tongue. And, ya know, been a fantastic mother.
Anyone who's had a mother who bit her tongue regarding a not-so-great relationship can probably relate.
Ariana says the song was closure for Joan as much as it was for her. Ari also said it worked as "a 'thank you' to her for helping me through a lot of this sh*t, and uh, searching so desperately for what I feel parts of my childhood lacked. It was just a beautiful moment for her."
It just doesn't get old, Ari.