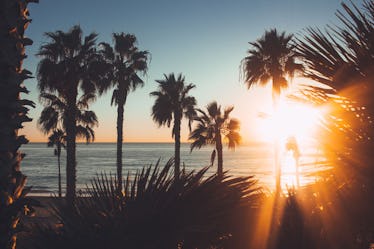 You Can Fly To California For $54 With JetBlue's Fall Sale, So Summer Isn't Over
It's officially September, which means summer 2018 is on its way out. Soon, the leaves will start changing colors, the air will become crisp, and 90 percent of my diet will consist of pumpkin-flavored food. (OK, that's already happening — don't judge me.) While some people are welcoming autumn with open arms, others don't want the sunny season to end — and apparently, JetBlue understands. The company is currently offering cheap fall flights, and some of them will take customers to summery destinations at an affordable cost. If you're someone who wants to travel with the warmth, check out JetBlue's "Get Going, Pumpkin" flight sale.
Aside from having an adorable name, JetBlue's latest sale offers national and international flights at a reasonable cost. Travelers will have the chance to fly to California on the cheap, or visit Jamaica on a budget. But before I dive into particular deals, let's get one thing out of the way: You don't have much time to book your flights. The two-day flash sale started on Wednesday, Sept. 5, and customers will only have until 11:59 p.m. ET on Thursday, Sept. 6 to buy their tickets. That means you have less than 24 hours to plan your next getaway.
No pressure!
In all seriousness, cheap plane tickets like these will probably make your last-minute vacay totally worth it. While you're planning your trip, you will have to keep a few things in mind. According to JetBlue's sale page, booking flights during the "Get Going, Pumpkin" sale will allow you to travel between Sept. 13, 2018 and Nov. 18, 2018. (Halloween getaway, anyone?) Of course, each flight deal has different travel windows, and you'll have to check the details for the trip you're interested in to see when you can book it. In order to do so, hit the tiny arrow next to the flight price of a particular trip on JetBlue's sale page. Then, you'll see travel dates, blackout windows, and restrictions.
Now that you know the key details about JetBlue's autumn sale, I can tell you about some deals that'll help you prolong your summer. Just keep in mind that there are a lot of flights to choose from — so I'll mention a few that stood out to me.
If you're trying to kick off autumn in sunny California, you can travel from Las Vegas, Nevada (LAS), to Long Beach, California (LGB), for $54. TBH, that's less money than I usually spend on bottomless brunch — but I digress. If you want to stay on the East Coast, you can fly from Atlanta, Georgia (ATL), to Orlando, Florida (MCO), for $54, too. (FYI, a Disney trip around Halloween would be rad.) But if you'd rather escape the states, you can travel from chilly Boston to Bermuda (BDA) for only $99. Those of you in the New England area can also travel from Hartford, Connecticut (BDL), to Tampa, Florida (TPA), for $94. Of course, these are all only one-way prices — but you can explore the flight deals to find a return trip that's just as cheap.
If you need a little more time to think about your trip, Southwest Airlines also has a fall flight sale going on that lasts until Sept. 20. You probably want to book a couple of fall getaways, right?
I only mentioned a few flights that are part of JetBlue's "Get going, Pumpkin" sale, but you can explore the page yourself and look for flights that are best for you. Just remember that you only have until 11:59 p.m. ET on Sept. 6 to book your trip. Safe travels!