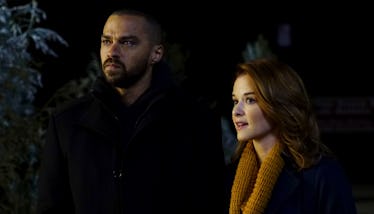 Jesse Williams Opens Up 'Grey's Anatomy' Fans Hating Japril At First
ABC
The upcoming fifteenth season of Grey's Anatomy has plenty of love stories to cover, but one of fans' favorite couples is officially a thing of the past. Chances of Jackson and April reuniting are slim after April Kepner's Season 14 departure from the hospital after her near-deadly accident and whirlwind marriage to former fiancé Matthew. Although his character Jackson is still in a relationship with Maggie, Jesse Williams' quotes about Jackson and April on Grey's Anatomy will make you sob about the pair's shared history all over again.
Initially becoming friends when Seattle Grace and Mercy West merged in Season 6, the insecure April and an ambitious Jackson were never obvious romantic partners. As their friendship deepened and April eventually lost her virginity to Jackson, she felt even more opposed to pursuing a relationship with him, but as life tends to roll in Seattle, professional circumstances kept bringing them back together. One marriage, two babies, and a divorce later, the two parted ways last season when April reunited with her old flame Matthew and left Grey Sloan Memorial to pursue work with the homeless.
Japril was no Derek and Meredith or Arizona and Callie, but in the grand scheme of Grey's Anatomy relationships, Jackson and April's friendship almost always remained strong even throughout their romantic entanglements. Fans have never been too keen on Jackson dating Maggie, but viewers weren't crazy about Jackson and April's early romantic attractions to completely different characters either. As Williams told Entertainment Weekly, their attachments to other doctors didn't inspire many positive reactions about Japril when a focus on the characters grew. He told the magazine:
Sarah [Drew] and I are very close and we developed something really special on the show, which is a rare opportunity on a show with this many cast members...we got to have our own show and dig deep into the origin story for them... Fans hated us at first. I think it's important for people to realize that especially as we go into now with Jackson exploring his relationship with Maggie... They hated April because she liked Patrick Dempsey's character and they hated me because Jackson had been with Lexie... April and Jackson are opposites in many, many ways. In their belief systems and many other ways, so it was clunky.
While they were in a good place in Season 14, watching Jackson and April as best friends, lovers, and divorcees learning to be close again was a lot of commitment for fans. A couple going through that much only for April to end up with the man she once left for Jackson was definitely anticlimactic and a little disappointing for both viewers and actors. Actress Sarah Drew has spoken about her character's surprise ending, telling The Hollywood Reporter:
I was devastated that Jackson and April [weren't the] endgame. I thought Jackson and April were meant to get back together and they were going to get married again and realize they'd been crazy and it was just going to be this long, slow burn.
Hmm, maybe we can count on a series finale reunion for these two?
As for what Jackson gets up to with April away from the hospital, the Season 15 trailer hints that DeLuca saves him and Maggie from getting hit by a car. Jackson also performs an intense surgery that appears to drive him to frustration with Maggie, which won't exactly help any viewers trying to move past his history with April. Ah, well, here's hoping that Meredith's mystery love story will distract any Japril fans from one half of the pairing's absence.
Season 15 of Grey's Anatomy premieres on Thursday, Sept. 27, at 8 p.m. ET in a two-hour episode on ABC.