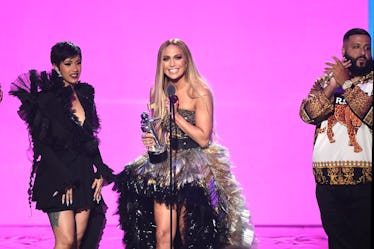 J.Lo Says She Feels Like Superwoman These Days & This IG Of Her Ripped Arms Proves It
Michael Loccisano/Getty Images Entertainment/Getty Images
I feel pretty confident saying I'm not the only one who would lose my freaking mind if Jennifer Lopez were cast as Superwoman in a Marvel movie. And though that clearly hasn't happened (yet), you can't deny that the celeb is an empowering, strong woman. Jennifer Lopez's superwoman Instagram, for instance, sets a shining example that girls really do run the world. To say the least, Lopez's strength, both mental and physical, are motivating and inspiring AF.
Earlier this week, J.Lo posted an Instagram photo of herself flexing her upper body after one of her shows in Las Vegas. In the caption of the photo, the 49-year-old celeb wrote that she's "feeling like superwoman" after slaying yet another performance — and Lopez wasn't just talking about her physical strength (but seriously, how impressive are her muscles?). In the caption of her Instagram photo, Lopez described how she's been feeling on top of the world, despite her incredibly busy schedule. She wrote,
Feeling like superwoman after the show tonight! When I started this run I thought omg 15 shows in 27 days that's a lot... but I made a promise to myself that instead of letting it wear me down I would be even stronger at the end of it...I will work out and be in the best shape of my life...
Lopez also admitted in her Instagram post that there were moments throughout her Las Vegas residency when she found herself feeling utterly exhausted. Between traveling, performing, and somehow finding time for herself, it's totally understandable how overwhelmed Lopez must have felt over the last several months. But that's exactly what makes J.Lo a true superwoman: She prevailed and moved forward through all of the obstacles and exhaustion, and she's come out on the other side feeling, rightfully so, incredibly accomplished. She wrote in her Instagram post,
There were moments I was tired and there was travel and I had to fit in my workouts where I could... but here we are with only 3 shows left!! And I am having so many emotions but mostly just feeling strong, happy and grateful!!!
Ugh, I love her so much. I can't even imagine what J.Lo's everyday life actually looks like, and it's so admirable that she's maintained such a motivated, positive, grateful perspective on everything despite how hectic it all must be.
But, if you're like me, then you're probably low-key wondering how the heck J.Lo got those epic upper body muscles. Thankfully, the performer has pretty much never been shy when it comes to sharing her favorite workouts, so we're in luck.
David Kirsch, a celebrity trainer who's worked with Lopez, as well as other stars like Margot Robbie and Britney Spears, shared a few of the exercises he's done with J.Lo in a March 2018 interview with SELF. He told the outlet that one of his "go-to total-body strengthening moves" is called the Spiderman push-up. First superwoman, now Spiderman? Am I the only one who's so into the Marvel theme happening here?
I won't lie: This workout isn't easy, guys, so if you're trying it out at home, be sure to take it slow, and remember that becoming a superhero with high-key ripped arms is a process. Be patient, and much like J.Lo, don't give up.
But, if you do experiment with Spiderman push-ups and they're not really your thing, it's all good. Back in August 2017, Health reported that J.Lo also loves using resistance bands to tone her arms. Specifically, the outlet says the performer is all about bent-over resistance rows, which you can learn how to do in the below video.
Try these moves at home, and soon enough, you just might feel like a superwoman, too.