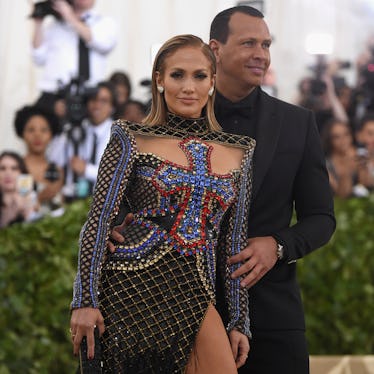 Jennifer Lopez's Sweet Birthday Video For Alex Rodriguez Is Relationship Goals
Jamie McCarthy/Getty Images Entertainment/Getty Images
Publicly wishing your boo a happy birthday via social media can be surprisingly tricky. When you really love someone, it can be really difficult to find the right words to say, and to make sure you don't sound over-the-top cheesy. However, the absolute hardest part is finding the perfect photo or video. When you spend all of your time with someone, you end up taking a helluva lot of pictures, and finding the "best of the best" can be really tricky. However, Jennifer Lopez's birthday wish to Alex Rodriguez is actually perfect, and if you haven't already seen it, I highly recommend taking a look at it. Your heart will definitely skip like... eight beats.
On Friday, July 27, Alex Rodriguez turned 43 years old. Obviously, his incredibly loving and — let's be real — straight-up perfect girlfriend, Jennifer Lopez, came in clutch with the most adorable Instagram post known to mankind. It was a heartfelt video montage that slowly transitioned through pictures of the two of them together, some with her kids, and others just with him. Stephane Huguenin's beautiful rendition of "As The Days Go By" was playing in the background, and honestly, it was a real tear-jerker. If A. Rod wasn't desperately seeking out tissues by the end of it, I'm extremely disappointed in him.
Oh and the caption? Don't even get me started. The caption was A-plus material, too. Aside from professing her love to the former Yankees player, J. Lo explained that A. Rod is an incredibly important person in her life and that she's super lucky to have him around. TBH, I think he's even luckier to have her around in his life, but what can I say? "Jenny from the Block" is a real catch.
The caption in J. Lo's Instagram post read,
Baby, spending time with you over the past year and a half...getting to know the real you more and more...I am surprised everyday by the generous, loving person you are to me and everyone around you... you bring energy and laughter everywhere you go. But I am most impressed by the man you strive to be...growing everyday... reaching for new heights, new understanding, new dreams and new goals. YOU ARE A SUPERSTAR, a force of nature, a visionary and a gentleman. I love you and I wish for you, today and everyday, all the goodness and abundance God and the universe has to offer... HAPPY BIRTHDAY Macho Bello. Te Adoro ♥️🎂💕💋 @arod
In addition to commemorating his birthday on IG, it looks like J.Lo really came in clutch to help celebrate A. Rod's big day. Per A. Rod's Instagram Story, the actress was singing karaoke to The Pretenders' "I'll Stand By You," which was later followed by the two of them performing a slightly-choreographed dance to J.Lo's hit song, "Dinero," for all of their friends to see. Honestly, these too are so dang adorable, and I cannot handle it.
If you didn't already think that J.Lo and A. Rod were the cutest couple of the moment, then her birthday post to him totally proves it to be true. Between all of their gorgeous pictures together, her high-key adorable caption — as well as their amazing couple's dance featured on his Story — it's clear that they have incredible chemistry. Cheers to the happy couple!