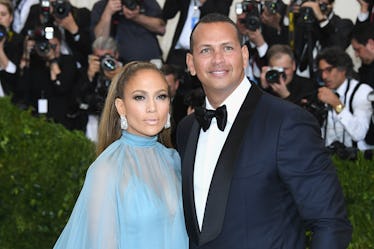 Alex Rodriguez Posted The Sweetest Tribute To Jennifer Lopez For Her Birthday
Dia Dipasupil/Getty Images Entertainment/Getty Images
Alex Rodriguez really loves his girlfriend Jennifer Lopez if the latest posts on his Instagram account are anything to go by. Lopez turned 49 years old on Tuesday, July 24, and Rodriguez made sure to let his lady love know just how much he cares for her. Actually, Alex Rodriguez's birthday post for Jennifer Lopez is probably one of the sweetest things you'll ever see.
In his post, Rodriguez gushed about how wonderful Lopez is and how impressed he is by her selflessness:
When we were kids, birthdays were exciting because it was all about the gifts we would be getting. A new bat, dance shoes, maybe a new CD (yes I'm old!). I see firsthand how that's changed for Jennifer, and how she's found joy in sharing with others.
In his post, Rodriguez included a photo slideshow of Lopez. In some photos, Lopez is making waves at the beach. In others, she's riding a bicycle, relaxing on a private jet, or just showing off her best clothes.
Rodriguez concluded his lovely birthday message for Lopez with this:
For someone who has been about giving everything she has 365 days a year — to our children, our families, the world — I hope today, we can give you all the happiness you deserve. I love you mucho Macha 13. ❤️
Here's a look at the pics Rodriguez shared alongside his message. As you can see, Lopez is front and center:
This post so clearly exemplifies how mature and real Rodriguez and Lopez's relationship is. They seem to share their whole lives with each other — children and all — and it's so inspiring.
Rodriguez and Lopez first sparked dating rumors in early 2017. By March of that year, a source confirmed to People magazine that the two were, in fact, an item. Then, in May 2017, Rodriguez and Lopez made their red carpet debut at the Met Gala. They've basically been inseparable ever since. And now they've got this really sweet family vibe going on, which is great!
Though they don't have any children together, their blended family has a total of four children: Lopez's 10-year-old twins, Max and Emme, and Rodriguez's daughters, Ella, 10, and Natasha, 13.
The whole family is off on vacation right now. They're enjoying some rest and relaxation at the beach, as well as celebrating Lopez's birthday. Both Rodriguez and Lopez have been documenting their fun in the sun.
Lopez posted this incredible shot on her birthday:
"Current birthday situation... yup," Lopez captioned her photo, which also features Rodriguez as well as her daughter. The whole gang is there and ready to have a good time, it seems.
And Rodriguez posted this sweet photo with his daughter:
By the looks of things, this beach party is going to be a memorable one. With any luck, the couple will share more photos from their awesome vacation. Curious minds want to know what goes on at such a party! Whatever shenanigans they get themselves into, here's hoping Ms. Lopez has an incredibly happy birthday!