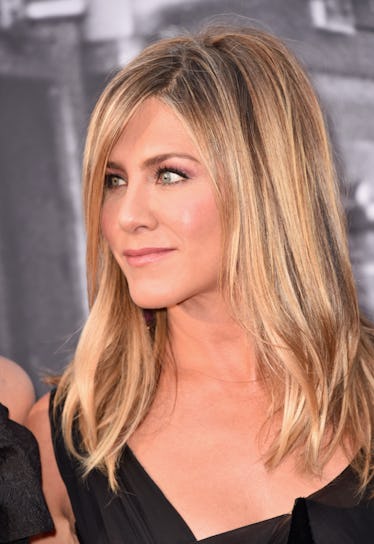 Jennifer Aniston's Clapback At Haters Who Say She "Can't Keep A Man" Is Epic
Alberto E. Rodriguez/Getty Images Entertainment/Getty Images
Can we all take a moment to give it up for the Mother Queen, Rachel? I mean — Jennifer Aniston? She's the OG of haircuts, Smart Water, and shaping my false assumption that there are very affordable apartments with lots of square footage in New York City, and damn I love her for it. It's no secret Aniston's had two highly publicized divorces, but she isn't worried about it. Seriously. So everyone else can get over it now, too. Jennifer Aniston's message to haters who say she "can't keep a man" is so powerful and great inspiration for anyone out there feeling insecure in the love department. Just a reminder — you don't need anyone else to make you happy! Jennifer Aniston says so!
Aniston is on the cover of InStyle magazine's September issue and she's getting real about her personal life. She knows there's an unfair narrative surrounding her thanks to her famous divorces to actors Brad Pitt and Justin Theroux, and she told InStyle she "constantly" hears false stories about herself. Sure, like any normal human being with a pulse, it might drag her down from time to time, but mainly she's focused on living her best life and staying above the noise. She told the magazine, "There are definitely moments of not being balanced and poised, but I do that all in my own personal space. For the most part I can sit back and laugh at the ridiculous headlines because they have gotten more and more absurd."
To Aniston, these kinds of rumors are metaphorical candy to the public and not rooted in anything of substance or value. As she put it,
I guess they're feeding into some sort of need the public has, but I focus on my work, my friends, my animals, and how we can make the world a better place. That other stuff is junk food that needs to go back in its drawer.
As for the misconceptions around her relationships, Aniston maintains it's all BS. "The misconceptions are 'Jen can't keep a man,' and 'Jen refuses to have a baby because she's selfish and committed to her career.' Or that I'm sad and heartbroken," she said. "First, with all due respect, I'm not heartbroken..."
She continued,
And second, those are reckless assumptions. No one knows what's going on behind closed doors. No one considers how sensitive that might be for my partner and me. They don't know what I've been through medically or emotionally. There is a pressure on women to be mothers, and if they are not, then they're deemed damaged goods. Maybe my purpose on this planet isn't to procreate. Maybe I have other things I'm supposed to do?
She also had some epic commentary on the double standard between men and women in Hollywood (and in the world in general.) "Women are picked apart and pitted against one another based on looks and clothing and superficial stuff," she said. "When a couple breaks up in Hollywood, it's the woman who is scorned. The woman is left sad and alone. She's the failure. F that. When was the last time you read about a divorced, childless man referred to as a spinster?"
Ugh, you're so right, Rach! I mean Jen!
Aniston says everyone, including men, need to "be better at listening to each other."
Jen, I am all ears. Keep the good stuff coming.