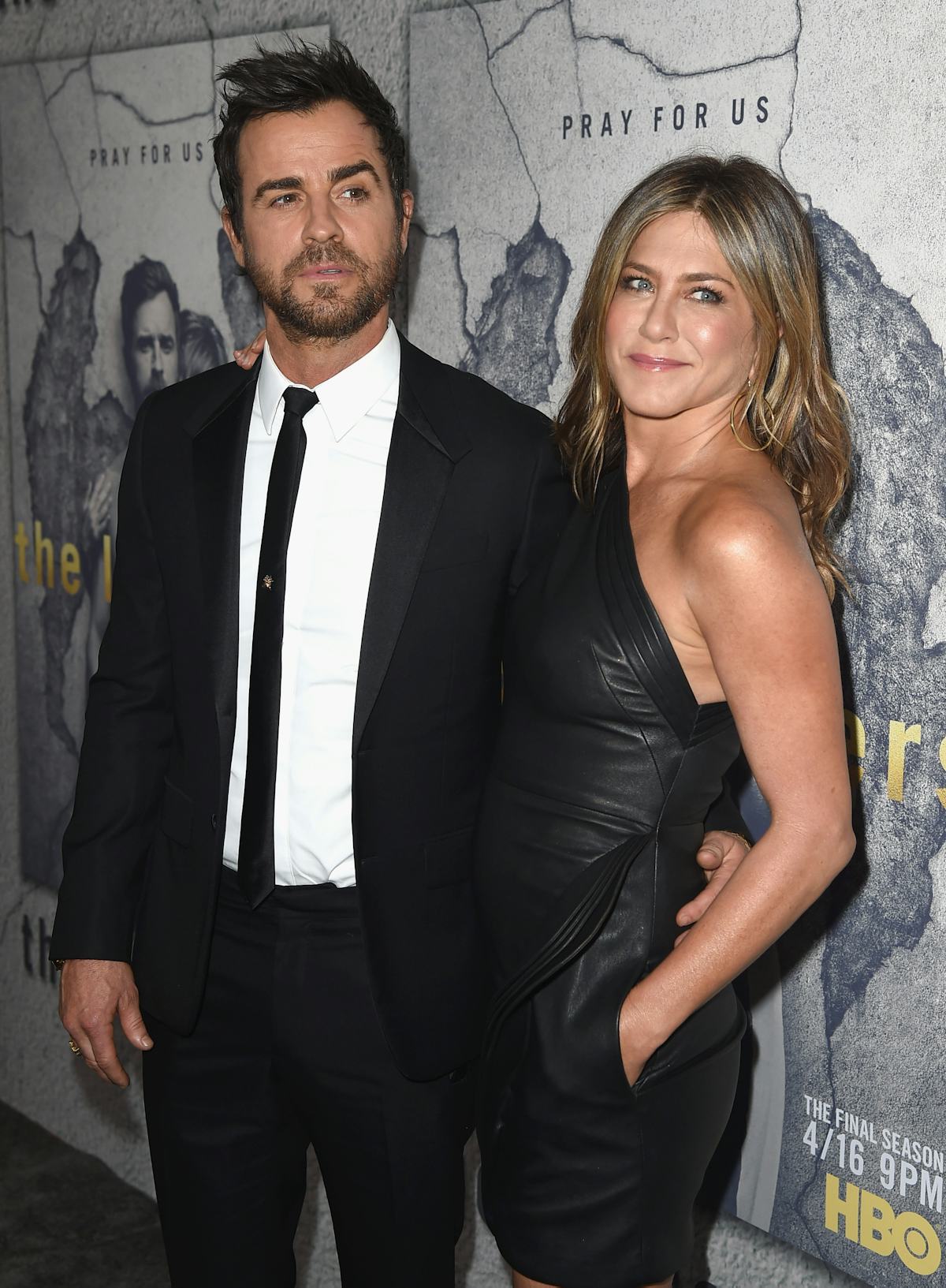 Justin Theroux Reportedly Once Found Love Notes From Brad Pitt To Jennifer Aniston
Kevin Winter/Getty Images Entertainment/Getty Images
Keeping memories from past relationships is something we all do. Some people keep a box of things their ex gave them, some have individual items they can't bring themselves to give up, some see no harm in holding on to keepsakes from a relationship that meant a lot to them. It's a normal thing. But it reportedly caused some drama for Jennifer Aniston and Justin Theroux before they separated. According to Us Weekly, some of Brad Pitt's love notes to Jennifer Aniston were once found by Justin Theroux, and it became hella awkward for the couple, who announced their separation on Thursday, Feb. 15. Elite Daily reached out to Theroux's, Aniston's, and Pitt's teams for comment on the report, but did not hear back by time of publication.
A source told Us Weekly that Theroux once found little notes Pitt had left for Aniston when they were still together that Aniston apparently kept, and it apparently raised some insecurities for Theroux. "He stumbled upon old Post-it notes Brad had written," the source said. "Sweet little Post-its like, 'You looked nice tonight' or 'Miss you already.'" Admittedly, it does seem random that Aniston would keep Post-It notes. To me, it would make more sense to keep bigger items like clothes, gifts, photos, etc. On the other hand, I'm sure those little notes held a lot of meaning for Aniston. It's her prerogative to keep them as memories of her time with her first husband, and she's obviously capable of keeping those memories without it meaning she still has feelings for Pitt. The source told Us Weekly that Aniston tried to explain the notes didn't mean much. "Jen assured him they weren't a big deal" they said. "But Justin wasn't thrilled … Justin had moments of insecurity like that."
Jennifer Aniston and Justin Theroux announced their separation on Thursday, Feb. 15, in a joint statement. The full statement read,
In an effort to reduce any further speculation, we have decided to announce our separation. This decision was mutual and lovingly made at the end of last year. We are two best friends who have decided to part ways as a couple, but look forward to continuing our cherished friendship. Normally we would do this privately, but given that the gossip industry cannot resist an opportunity to speculate and invent, we wanted to convey the truth directly. Whatever else is printed about us that is not directly from us, is someone else's fictional narrative. Above all, we are determined to maintain the deep respect and love that we have for one another.
The source also told Us Weekly that Aniston had her own struggles in terms of her divorce from Pitt that affected her relationship with Theroux. They said, "Jen has struggled with the perception that she is this pathetic woman after the divorce from Brad. It played a role in her wanting to marry Justin." Aniston was married to Pitt from 2000 to 2005. She started dating Theroux in 2011 and they threw a surprise wedding in 2015.
In terms of the "gossip industry" Aniston and Theroux referred to in their joint statement announcing their separation, it's true they've been the subject of a lot of tabloid drama over the years (Aniston more so than Theroux, thanks to Brad Pitt and Angelina Jolie). The couple developed a sense of humor about it, though. Theroux told Vanity Fair in April of 2017 that he and Aniston basically just laugh at all of the nonsense written about them now. He said,
I think it would be funny to do a compilation of those headlines. Let's assume these characters we play in the tabloids are real people. I would love to take them to a shrink and have them analyzed. Like, are these people insane? Yes, they fight every day, they're constantly getting divorced, they're hoarding children at this point. Imagine what those people would actually be like! They'd be f****** bananas! They'd be the most bipolar people on the planet. Constantly storming in and storming out! Devastated! Crying! Rage! Someone should give a clinical diagnosis of one year in our lives. It would be super funny. What medication would you give these people to help them out?
Honestly, I don't blame them for calling out tabloids in their statement about their separation. Jennifer Aniston has been put through so many unnecessary media wringers ever since her 2005 divorce. Homegirl deserves a break. (Don't tell Ross Geller I said that.)