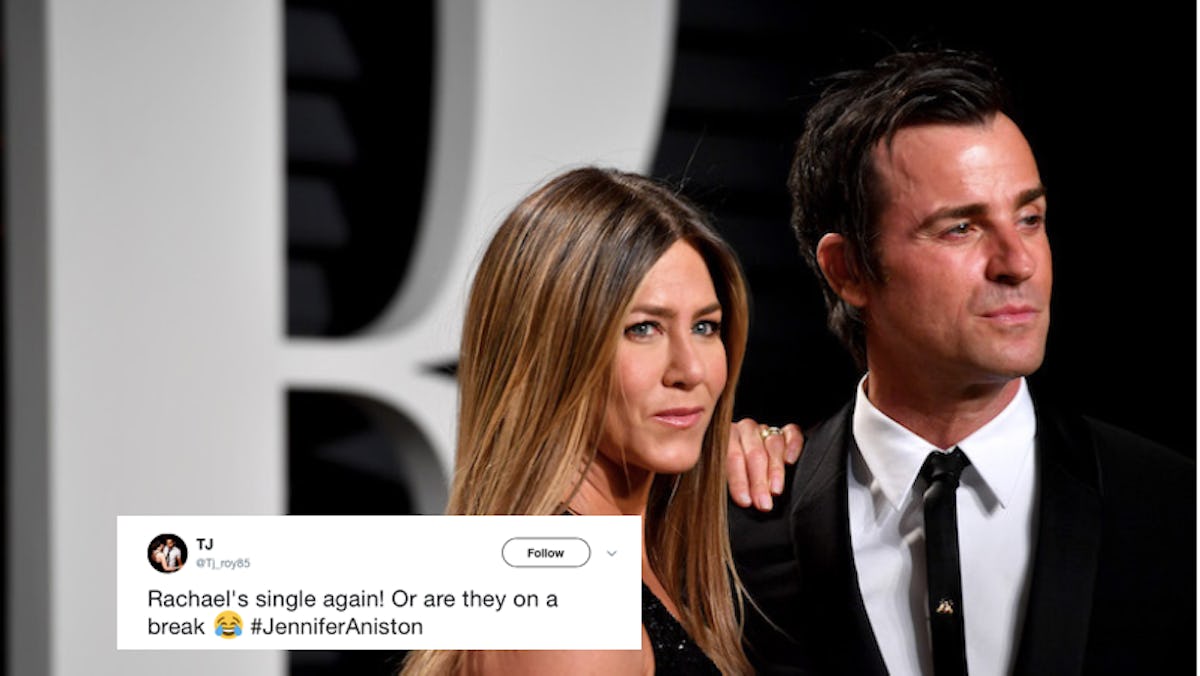 Everyone's Making The Same 'Friends' Joke About Jennifer Aniston's Breakup
Pascal Le Segretain/Getty Images Entertainment/Getty Images
Jennifer Aniston and Justin Theroux announced on Feb. 15 that they are separating after two years of marriage, and suddenly, it feels like we are all living in a previously-unaired Friends episode called "The One Where Jennifer and Justin Are On a Break." Because after the couple confirmed the split via a joint statement, Twitter exploded with references to the infamous Ross/Rachel era that started when Ross hooked up with the hot girl from the Xerox place — and the resulting tweets about "on a break" jokes are actually hilarious.
Here's the official statement Aniston and Theroux released:
"This decision was mutual and lovingly made at the end of last year. We are two best friends who have decided to part ways as a couple, but look forward to continuing our cherished friendship. Above all, we are determined to maintain the deep respect and love that we have for one another."
It's kind of sweet, right? Sounds like we may have another case of "conscious uncoupling" on our hands here, guys. Seriously, though, Jennifer Aniston has been my spirit animal since the very first time she burst into Central Perk in that awful, poufy wedding dress, and I really just want her to have her happy ending already. So if she wasn't vibing with Theroux, then good on her for making the bold moves!
Of course, it wasn't long after the news broke, that fans started making all the "on a break" jokes on social media.
OMG, you guys. If you need a quick episode refresher, here you go: The phrase first pops up in the 15th episode of Season 3, when Ross gets jealous of Rachel's work friend Mark, and starts whining about how much time she is spending away from him at the office. And, like, way to be a supportive boyfriend, Ross! Anyway, Rachel eventually gets so annoyed at Ross' jealousy that she can't take it anymore, and the following exchange takes place at the end of one of their arguments:
Rachel: "Maybe we should just take a break!"
Ross: "Ok, fine. Fine. Let's take a break. Let's cool off. Let's get some frozen yogurt or something."
Rachel: "No — a break from us."
Intense! I do love a good FroYo reference, though. But of course, they never do get any, since Ross splits without another word, and ends up kissing Chloe The Copy Girl like a hot second later. Rachel finds out what he did — thanks, Gunnar! — and when Ross tries to defend himself by saying it wasn't cheating since they had previously broken up, Rachel argues that they were only "on a break," successfully coining the phrase that would be repeated over and over again throughout the series.
I gotta be honest here — as much as I have always loved Rachel Green, I weirdly gotta side with Ross on this one. I'm also a Rachel and Joey shipper, but that's a story for another day. Anyway, now that America's sweetheart is officially back on the market, fans totally want to see her reunite with ex-husband, Brad Pitt — who's also currently single now after his split from Angelina Jolie, the woman he left Aniston for!
I'm not gonna lie – I ship this reunion so hard. Even though Aniston once said Pitt was missing a "sensitivity chip" or whatever, the hopeless romantic in me has always thought that he was her lobster.
But sadly, this is not my story to write, and so I do not get to decide how it ends. This is Jennifer Aniston's story, so let's give her a minute to figure it all out for herself. She's clearly a strong woman who's not afraid to seek out happiness in life when she's just not feeling it. Whether or not that includes Brad Pitt remains to be seen. But if it does, well, I'll just let Rachel Green explain it: