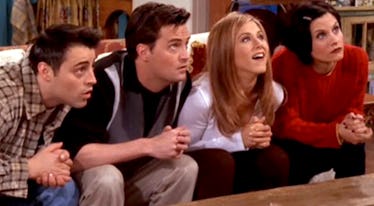 Jennifer Aniston Just Revealed Which 'Friends' Star Is Against Doing A Reboot
NBC
Since pretty much every beloved series from the '90s is being rebooted right now, it's no surprise everyone keeps asking when one of the most popular sitcoms of the era will be making a comeback. There have been rumors about a Friends reboot for several years now, but so far, nothing has come from them. Well, now one of the show's stars is sparking interest again, but she also said that one of her co-stars might be difficult to get on board. Jennifer Aniston revealed Matt LeBlanc's feelings about a Friends reunion aren't exactly promising for fans.
Jennifer Aniston spoke about the idea of bringing Friends back during her new cover story in InStyle, admitting that she fantasizes about some sort of reboot series. So Aniston is totally on board, but she also shared that one obstacle to making a reboot would be one of her co-stars who is less enthused by the idea:
I know Matt LeBlanc doesn't want to be asked that question [about a reboot] anymore. But maybe we could talk him into it.
In a way, it makes some sense that Matt LeBlanc would be the most hesitant of the six Friends stars to return to the series. After the sitcom ended, LeBlanc was the only star to continue playing his character of Joey Tribbiani on the spinoff series Joey. That series started off with big viewership numbers when it premiered (although it was not as well-received by critics), but its ratings began to tank in the show's second season, so much so that NBC cancelled the series halfway through the season and did not even air its final episodes. The failure of Joey became a meta-joke on LeBlanc's more successful follow-up series Episodes.
Last year, Matt LeBlanc clearly stated his opinion on a Friends reboot, telling USA Today that the series was about "a finite period of time between finishing school and getting married," and that since the characters have moved on now, he doesn't see how there would be a story for a reboot. Than again, Jennifer Aniston did say she may be able to talk him into it if a reboot option does surface.
Fans probably should not hold their breath for a Friends reboot with the full cast, though. A couple months ago, Friends co-creator David Crane explicitly stated that a reboot will never happen, and other stars of the show have expressed their disinterest in reviving the show in the past few years as well. Matthew Perry recently said that he has literal nightmares about a Friends reboot in which the whole cast comes back but nobody cares. He went on to say that he is fearful of doing a reboot because the original series ended on such a high that he does not see the point in sullying that.
Thankfully, Jennifer Aniston actually has the perfect pitch for a new Friends show that could get around all of the people who aren't interested in reviving the series: a Golden Girls-style show starring herself, Courteney Cox, and Lisa Kudrow as old ladies:
Before that show ended, people were asking if we were coming back. Courteney [Cox] and Lisa [Kudrow] and I talk about it. I fantasize about it ... Or we just give it some time and then Lisa, Courteney, and I could reboot The Golden Girls and spend our last years together on wicker furniture.
Umm, sign me up for that! Maybe there is hope for a Friends semi-reboot after all.