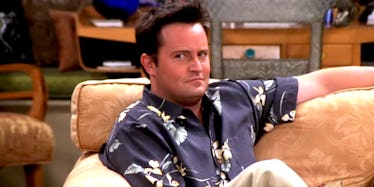 Matthew Perry Reveals He Has Literal Nightmares About Doing A 'Friends' Reboot
WB
Could he BE any more against a Friends reunion series?!
Matthew Perry may be best known for his role as the sarcastic, wise-cracking Chandler Bing for ten seasons of Friends, but he isn't interested in bringing Chandler back to the small screen. In fact, he actually has nightmares about having to do it again.
Perry revealed to Variety that he dreams about a possible Friends reboot all the time... but they aren't good dreams. He worries if they actually did a reunion series, nobody might care, so he's saying no to any plans to bring the friends back together.
I have this recurring nightmare – I'm not kidding about this. When I'm asleep, I have this nightmare that we do Friends again and nobody cares. We do a whole series, we come back, and nobody cares about it. So if anybody asks me, I'm gonna say no. The thing is: We ended on such a high. We can't beat it. Why would we go and do it again?
It is true the Friends series finale did become one of the most-watched TV finales in history and most viewers agree it was a satisfying conclusion to the long-running series. There have been rumblings about a possible reboot for years now.
Although the cast remains close, they have consistently denied rumors that a reunion series or film is in the works. Of course, the recent trend of '90s sitcoms getting network revivals (see: Roseanne, Full House, Will & Grace, Boy Meets World, etc.) is only fueling more rumors about Friends being there for you when the rain starts to fall once again.
Sorry, Friends fans — it sounds like you're just going to have to keep re-bingeing the series on Netflix and stop holding out hope for a new series.
Citations: Matthew Perry on His Edgy New Play — And Why He'd Say No to a 'Friends' Reunion (Variety)