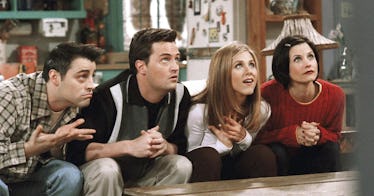 A 'Friends' Reboot Will Never Happen, So It Looks Like We're On A Break Forever
NBC
Could the producers of Friends BE anymore clear? A Friends reboot is never going to happen, so don't expect an announcement about an updated version of the '90s sitcom favorite any time ever. As much as you want to see Monica and Ross sippin' on nitro cold brew and oat milk matchas at Central Perk, a revival is outside the realm of television reality right now. As Joey would say, it's basically a "moo point."
"Never happening. Never. We did it! It's done," Friends co-creator David Crane stated at TheWrap's Emmy Series panel on June 6. "That's why you don't want to see more of it, because it's all a happy ending."
According to The Wrap's report, Crazy Ex-Girlfriend star Rachel Bloom just couldn't resist asking about the old gang. Thanks for doing the hard-hitting reporting, Rachel!
"Yes. Come on, they worked really hard, ten years," Crane assured, when she inquired about Ross and Rachel's relationship status.
Good to know. (Monica and Chandler are apparenlty going strong as well.)
With the reboot craze in full swing, this clearly isn't the first dicussion about the sitcom's fate.
"We can't just reboot everything," NBC Chairman Bob Greenblatt declared last April, crushing fan dreams of new Seinfeld or Friends episodes.
It's not the just the crew that's squashing the idea of a Friends revival, it's the cast.
"I've talked to the writers about it. That show was a very finite period in your life, between 20 and 30, when you're out of school but your life hadn't really started yet and your friends are your family, and you're kind of finding your way. When that period is over, it's over," Matt LeBlanc told Steve Harvey in March.
"I always have this standard go-to joke when people say, 'We want to see what Joey's doing now.' Nobody wants to see Joey get his colonoscopy! Nobody wants to see that," he elaborated.
Honestly, I feel like the writers could somehow manage to make that scenario funny, but fair enough.
Lisa Kudrow echoed a similar sentiment when asked about the possibility of bringing the show back, remarking that it no longer makes sense given the cast's age.
"They're rebooting everything, but, I don't know, how does that work with Friends, though? I mean, that was about people in their 20s, 30s. The show isn't about people in their 40s, 50s. If we have the same problems, then that's just sad. That's not fun!" she explained to Conan O'Brien earlier this year.
And Matthew Perry is just plain scared the concept won't work. He admitted to Variety:
When I'm asleep, I have this nightmare that we do "Friends" again and nobody cares. We do a whole series, we come back, and nobody cares about it. So if anybody asks me, I'm gonna say no. The thing is: We ended on such a high. We can't beat it. Why would we go and do it again?
Jennifer Aniston has a sunnier response. The former Rachel Green told Ellen in January: "Anything is a possibility."
That's the spirit! Although, Jennifer Aniston's schedule is pretty full-up with TV projects at the moment. The actress is currently collaborating with Reese Witherspoon on an now-untitled HBO series about a morning TV show. She's also set to star alongside comedian Tig Notaro in a political comedy First Ladies, playing the first gay president of the United States.
Friends will forever hold a place in our hearts (and Netflix queues), but maybe audiences need to be grateful that they're living in a golden age of TV. *puts on "The One With the Prom Video" for the ninetieth time*