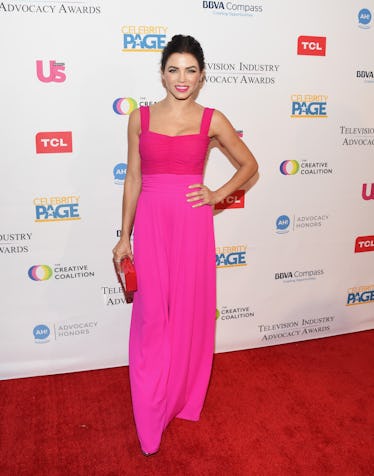 Jenna Dewan Is Reportedly Moving On From Channing Tatum With Someone New
Amanda Edwards/Getty Images Entertainment/Getty Images
Deep sigh. I know that Jenna Dewan and Channing Tatum split amicably back in April, but there was just some small piece of me that hoped the pair would somehow find their way back to each other. But now, it seems like both are finding happiness in new reported relationships, and I need to be supportive of that. While we recently got word that Channing Tatum may be dating singer Jessie J, we're now hearing that Jenna Dewan is moving on from Channing Tatum and is reportedly dating someone new as well. Elite Daily reached out to Dewan and Tatum's teams regarding the dating rumors, but did not hear back by the time of publication. Anyway, I'm just going to take a very quick cry back, and I'll get back to you in a moment.
OK, guys, let me fill you in on the details. According to Us Weekly, the 37-year-old actress is reportedly "seeing someone new," and an inside source reveals that the man she's reportedly seeing isn't "well known," meaning he might not even be a celebrity. (Cue all average humans rejoicing over the idea that they may have a shot with Jenna Dewan.)
Of course, this is a pretty far departure from her ex, 38-year-old actor Channing Tatum, who has reportedly been seeing singer Jessie J for a few months. According to a report from Us Weekly, Tatum was reportedly spotted at one of her concerts in Seattle on Oct. 6 and her concert in Salt Lake City on Oct. 8. Elite Daily reached out to Tatum's team previously for comment on the report, but did not hear back by the time of publication.
"They've been hanging out a lot lately and he's excited about seeing her," another source told E!Online. "She's on the road, but he is very interested in getting to know her and doesn't mind tagging along." The source also noted that Tatum is "making a lot of effort and wants to spend as much time with her as he can," adding, "He's having fun with it and seeing where it goes. He's known her for awhile and always thought she was very talented."
So Jenna Dewan and Channing Tatum are really moving on, huh. I mean, it's fine! I'm fine. Everything is totally fine.
See? I'm so fine!
Just kidding, I'm still an absolute mess. After 9 years of marriage, Jenna Dewan and Channing Tatum decided to separate, and on April 2 (aka, my least favorite day of the year), the pair issued a statement about the end of their marriage.
The statement read, in part,
We have lovingly chosen to separate as a couple. We fell deeply in love so many years ago and have had a magical journey together. Absolutely nothing has changed about how much we love one another, but love is a beautiful adventure that is taking us on different paths for now. There are no secrets nor salacious events at the root of our decision — just two best-friends realizing it's time to take some space and help each other live the most joyous, fulfilled lives as possible. We are still a family and will always be loving dedicated parents to Everly. We won't be commenting beyond this, and we thank you all in advance for respecting our family's privacy.
Perhaps I'm being a bit too emotional, but this whole "seeing other people" thing is going to take a bit of time to get used to. Even though, deep down, I wish these two would just kiss and makeup (then preferably perform some amazing choreographed dance routine of reconciliation together), I know that I have to be happy with whatever choice they make. So good luck to Jenna and Channing. I love you, but I'm going to try and let you go.