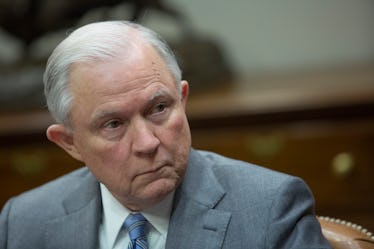 Jeff Sessions Fired Back At Donald Trump's FISA Tweet & This Feud Is Getting Real
Pool/Getty Images News/Getty Images
Here we go again. As Donald Trump continues to incessantly prod his Twitter fingers to launch criticisms of politicians and others on social media, one person just showed that they've had enough. Attorney General Jeff Sessions' comment on Donald Trump's FISA tweet shows that he's getting fed up with the president, and it's as fiery as you're probably imagining.
It all started on the morning of Feb. 28. Trump took to his Twitter to call out Sessions' decision to have the Justice Department's inspector general evaluate whether or not abuses of the Foreign Intelligence Surveillance Act (FISA) occurred when the FBI conducted surveillance on Trump's campaign associate Carter Page in October 2016. Republicans have frequently claimed that the surveillance warrant was obtained improperly, and said that the information the warrant was based on came from a researcher who had been paid by the Democratic National Committee and Hillary Clinton's presidential campaign.
In the tweet, Trump called Sessions "disgraceful" for putting the inspector general in charge of the investigation, and said the move would "take forever." His full tweet read,
Why is A.G. Jeff Sessions asking the Inspector General to investigate potentially massive FISA abuse. Will take forever, has no prosecutorial power and already late with reports on Comey etc. Isn't the I.G. an Obama guy? Why not use Justice Department lawyers? DISGRACEFUL!
But, although the attorney general usually stays quiet in the face of Trump's anger, this time Sessions fired back — basically telling Trump that he knew how to do his job. In a statement shared with the Associated Press, Sessions said his method was "appropriate" and that he would continue to do his duties with "integrity and honor," regardless of Trump's criticisms. The statement read,
We have initiated the appropriate process that will ensure complaints against this Department will be fully and fairly acted upon if necessary. As long as I am the Attorney General, I will continue to discharge my duties with integrity and honor, and this Department will continue to do its work in a fair and impartial manner according to the law and Constitution.
Sessions rarely claps back, so I know Trump has to be somewhere fuming.
There's been a lot of bad blood between Trump and Sessions.
There has been mounting tension between Trump and Sessions since 2017, and a lot of it seems to stem from the Russia investigation. On July 19, 2017, Trump slammed Sessions in an interview with The New York Times for recusing himself from overseeing the investigation into Russian election meddling, saying it was "extremely unfair." According to USA Today, after Sessions backed down from the investigation, Trump blamed him for the appointment of special counsel Robert Mueller and said he never would have nominated Sessions if knew the attorney general would have recused himself. The bitterness sparked rumors that Trump was on the verge of firing Sessions. But Sessions clapped back at the rumors, saying he would continue to serve in his position for "as long as that is appropriate."
Days later, on July 26, Trump launched another attack on Sessions via Twitter when he criticized Sessions for not firing Deputy FBI Director Andrew McCabe, who was a friend of James Comey — the ex-FBI director dismissed by Trump. The president's tweet referred to money raised by Virginia Gov. Terry McAuliffe for the campaign of McCabe's wife, who was running for a seat in the Virginia state Senate.
It just seems like he won't stop until he forces Sessions out of his position like he's done with others. But Sessions' pushback seems to indicate that he doesn't intend to go anywhere.
Trump's fury isn't just at Sessions.
Trump has severed relationships with officials left and right. On December 13, 2017 news broke that Omarosa Manigault Newman, assistant to the president and director of communications for the Office of Public Liaison, was fired from her position and escorted from the White House. On Aug. 18, 2017, chief strategist Steve Bannon left the White House after heavy criticisms of his ties to white supremacy and the alt-right movement in the midst of the Charlottesville attacks. On July 21, 2017 press secretary Sean Spicer felt compelled to resign after Trump went against his advisement to hire Anthony Scaramucci as the White House Communications Director — who then also resigned after just 11 days in office due to a leaked phone conversation with The New Yorker, in which he lashed out against other White House officials. And the list goes on and on.
It's exhausting to see this go on, and knowing Trump and the nature of his Twitter attacks, his beef with Sessions is far from over. But then again, at least Sessions is speaking up for himself. I commend him for that.