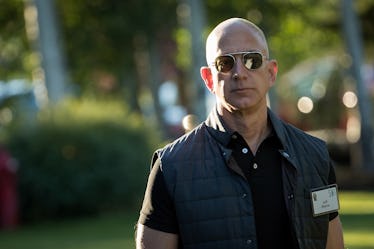 This Billionaire Is Giving College Scholarships To Dreamers & Trump Won't Like It
Drew Angerer/Getty Images News/Getty Images
Just one day after President Donald Trump reportedly made obscene comments about immigrants and their home countries, it appears he's started war anew with one of the most powerful men in the world. Amazon founder and CEO Jeff Bezos is donating $33 million in college scholarships for "Dreamers," young immigrants whom Trump's policies stand to threaten. TheDream.US, a nonprofit that provides scholarships to Dreamers, announced the news on Friday, Jan. 12.
Capitol Hill has been embattled for months to hash out an agreement that will determine the fate of Dreamers. Lawmakers met with Trump in the Oval Office Thursday to negotiate a deal on the Deferred Action for Childhood Arrivals (DACA) program, during which he reportedly called their recipients "people from sh*thole countries." (He has denied this claim on Twitter, and Senator Dick Durbin confirmed the reporting was accurate.)
DACA allows immigrants brought to the country as children to live and work legally while being shielded from deportation. In September 2017, the Trump administration announced it would give Congress six months to reach a deal before shutting down the program, leaving lawmakers on both sides to scramble for a plan to protect the 700,000 undocumented immigrants.
Trump's anti-immigrant comments stood in stark contrast to Bezos, whose donation with his wife Mackenzie would provide millions in scholarships to help Dreamers.
Bezos' grant will make a huge impact.
The grant Bezos just signed on to gives 1,000 U.S. high school graduates with DACA status $33,000 each to put towards college. Bezos' donation is the largest in the organization's history. As of this writing, Bezos is the richest man in the world, per Forbes' real-time rankings.
TheDream.US, which is the largest scholarship program for Dreamers, was founded in 2014 by former Washington Post owner Don Graham. The scholarships it oversees are generally given over four years, and the program serves about 2,850 students currently. Undocumented immigrants are not eligible to receive federal aid, so scholarships can make or break the decision to pursue higher education.
The decision was applauded by the immigrant advocacy community and beyond.
"Thank you, Jeff and MacKenzie Bezos, for the biggest grant in our history. Because of you, 1000 #DREAMers will be able to go to college," read a tweet from TheDream.US's Twitter handle.
Outside of the nonprofit itself, praise rained in for Bezos' grant.
"Among these 1,000 college-bound Dreamers there will be great inventors and great thinkers and great healers and great community leaders," wrote former White House Press Secretary Jay Carney in reply. "And, most of all, great Americans. Such a meaningful thing for MacKenzie and @jeffbezos to do."
"Huge news from @thedream_us this morning," tweeted National Immigration Forum Executive Director Ali Noorani. "Such an important scholarship program."
A scholarship recipient herself weighed in on what the donation meant.
"Wow, this is the scholarship I have! I'm so happy that the @thedream_us can help more undocumented/DACA students achieve their goal of higher education," wrote one user on Twitter.
Bezos is no stranger to the Dreamer life.
"My dad came to this country when he was 16 as part of Operation Pedro Pan," Bezos said, per TheDream.US' statement. "He landed in this country alone and unable to speak English. With a lot of grit and determination — and the help of some remarkable organizations in Delaware — my dad became an outstanding citizen, and continues to give back to the country he feels blessed him in so many ways. Mackenzie and I are honored to be able to help today's Dreamers by funding these scholarships."
It's unclear if Bezos' decision was in direct response to Trump's comments, but the timing is undeniable, and the tacks couldn't be more opposite. While Bezos receives praise for his donation, Trump's comments drew sharp and swift backlash. On Thursday night, CNN hosts Don Lemon and Anderson Cooper each took turns deriding Trump's abrasive statements on the air.
As the DACA program is set to end in March of this year, lawmakers are continuing to seek a deal that will protect them.