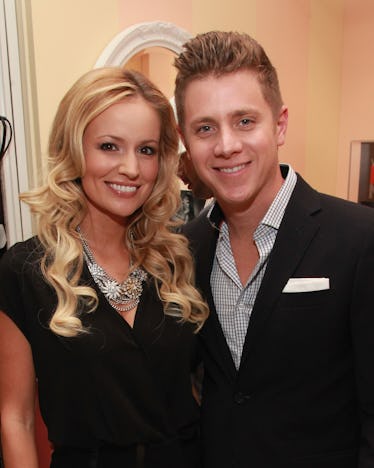 Jef Holm's Reaction To Arie As 'The Bachelor' Is So, So Salty
Taylor Hill/Getty Images Entertainment/Getty Images
Tell us how you really feel, Jef. It looks like not everyone has faith that Arie Luyendyk Jr.'s televised dating quest will lead to everlasting love, though sometimes people keep their opinions to themselves. Not so with the case of one Bachelor-verse alum. You might expect someone with a reality past to have positive words about the process, but Emily Maynard's ex Jef Holm's reaction to Arie isn't exactly full of glowing optimism. The former contestant had some choice words regarding the new Bachelor's future.
A little background on how Jef Holm is linked to the franchise and its current leading man. Jef Holm competed on Emily Maynard's season of The Bachelorette back in 2012. He and Arie Luyendyk Jr. ended up in the last two spots, but unfortunately only one of them home with a final rose and a fiance. That would be Jef with one F. Arie exited brokenhearted on that fateful day in Curucao, but now he's back and he's the one who's in charge of handing out those roses and finding his wife-to-be. Jef does not seem impressed. "Doesn't matter who gets out of the limo...I'll give 5k to the charity of @chrisbharrison's choice if @ariejr lasts 1 year with anyone," he tweeted during the show's Season 22.
Hmm, we guess we appreciate your philanthropic efforts, but why you gotta hate on Arie's journey? You beat him in the past, remember?
Apparently, Jef and Arie were pals at one point in time, but it looks like that friendship has sailed. Arie told Us Weekly in 2012,
Jef and I had a pretty cool relationship because we could really talk about what was going on in the house pretty openly to each other, whereas some of the other guys in the house, [it was] difficult for them to hear about the dates that were going on ... So yes, Jef and I had a pretty cool relationship [and] friendship going.
What a difference five years makes. Following ABC's September announcement declaring Arie the next Bachelor, Jef seemingly responded via Twitter with a post that read, "Oh the stories I could tell..."
He later slammed his former friend in a tweet replying to Reality Steve that read, "I've actually never even been inside a sorority house. As for him...I stopped being friends with him years ago because he's disgusting."
There is one reason why Jef doesn't think Arie's relationship will go the distance. Even though he was victorious in The Bachelorette's eighth season, he and Emily Maynard didn't last long. The pair broke up months after the finale aired. "I have nothing but respect and love for Jef and his family, but ultimately we are just at different points in our lives," Emily said in a statement following their split. "Emily and I are great friends and I hope we can continue to be friends forever. Everyone wants a salacious story to break, but the truth is we are just two people who fell in love and tried our hardest to make it work. I will always love her," Jef added.
And while Jef might not be in Arie's corner anymore, Emily sure is. Her Jan. 1 Twitter sentiments didn't echo any of Holm's negativity.
Emily might not be watching this season unfold on the small screen, but she has nothing but good things to say about her former flame's gig. The Bachelorette alum revealed to PEOPLE back in September,
I have been wanting Arie to be The Bachelor since my season ended forever ago, and I know he's going to be great! He's so much fun to be around and comes from the nicest family, so the girls on his season really lucked out with him! Arie deserves nothing but the best, and I hope everything goes wonderfully for him!
Well, that's one person from Arie's past who's rooting for him. Maybe Jef will come around as the season progresses...