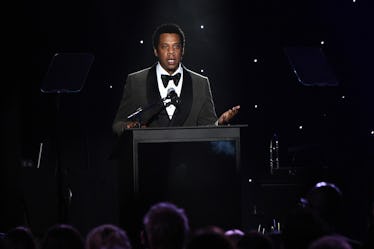 JAY-Z Got Real About Mental Health Stigma & We're So Here For It
Mike Coppola/Getty Images Entertainment/Getty Images
It's important for all of us to feel comfortable having open conversations about mental health, but it's always especially inspiring when we see a high-profile celebrity making strides to keep that conversation going. JAY-Z talked about mental health in his interview with CNN's Van Jones on Jan. 27, and to say the least, we are so here for it. The "4:44" rapper specifically dove into some of the unnecessary stigmas that we as a society tend to attach to the idea of getting help, especially as it relates to young people. As the United States works to combat bullying in schools across the country, not to mention gender and race discrimination in nearly every industry, it is beyond essential for people with influence, like JAY-Z, to step up and talk about mental health and self-love.
In his conversation with Jones, JAY-Z emphasized how open he's been about his own journey with mental health, as well as his opinion on the importance of encouraging therapy with young people.
"Mental health, PTSD, and trauma is so rampant in our community," Jones told JAY-Z. When asked about how he's personally gotten over the stigma of going to therapy, JAY-Z focused on the importance of something simple, yet so often overlooked: the ability to talk to someone about your problems. He added that young people might benefit from this the most.
"I think [therapy] should be in our schools... children have the most going on, and all these things happen to you, and you don't have the language to navigate it," the "Family Feud" rapper explained.
JAY-Z also made an incredibly salient point toward the end of his CNN interview, in regards to having empathy for bullies, and for people who treat others incorrectly. "How can [children know] when a guy is bullying you, all you have to do is say, 'Man, are you OK?'" JAY-Z asked, adding that it changes the entire interaction if someone does that.
There has never been a better time for celebrities and other notable public figures to advocate for the destigmatization of mental health across the board. According to a 2016 report from NPR, at least one in five children shows signs of a mental health disorder in a given school year, yet it's estimated that almost 80 percent of those children won't receive the help they might need.
When you think about it, this mental stress is likely compounded by other, larger factors, like the increased rates of depression and loneliness that the United States and other countries are starting to register, largely as a result of technological advancements.
Additionally, recent data from the Cyberbullying Research Center suggests a generally upward trend of suicidal behavior in people between the ages of 10 and 19 years old.
All of this comes together to highlight the notion that mental health — and treatment for mental health issues — must be an immediate concern and initiative for the country's youth. The ability for celebrities — who are often seen as flawless or as having perfect and unattainable lives — to be honest about their own mental health struggles while encouraging others to seek help is an unparalleled step forward in the way our society talks about mental illness.
JAY-Z isn't the only person who's been a powerful and positive force in the destigmatization of mental health in America.
Selena Gomez is another internationally known voice who has used her platform to talk about mental health. "I've cried onstage more times than I can count, and I'm not a cute crier," she told Vogue in a 2016 interview. The "Fetish" singer had to cancel her tour in 2014 to check herself into a psychiatric facility, and her honesty about the experience is no doubt a factor for her massive popularity on social media.
Gomez feels so strongly about creating more open communities around mental health that she spearheaded the Netflix series 13 Reasons Why, referring to the show (which revolves around bullying and one girl's ultimate suicide) as a "passion project."
Here's to hoping JAY-Z and Gomez inspire others in Hollywood — and really, people everywhere — to continue having these important conversations.