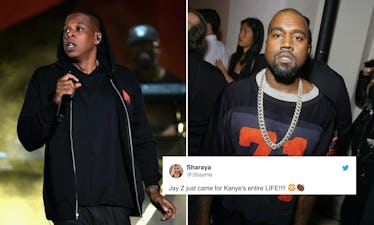 Fans Think JAY-Z Shaded Kanye West About Supporting Trump On "What's Free" With Meek Mill
Theo Wargo/Victor Boyko/Getty Images Entertainment/Getty Images
Rappers JAY-Z and Kanye West have had somewhat of a rocky relationship. Initially, the duo seemed to share a tight-knit bond, but then things started going south, and the two seem to not be on the same page on some pretty sensitive subjects — most notably, when West brought up Beyoncé during his infamous rant on stage Sacramento stop of his Saint Pablo Tour in November 2016. Since then, though, it looked as though they both were able to move past their issues... until now. That's because Meek Mill's new album, Championships, has dropped, and JAY-Z shaded Kanye West on "What's Free," according to fans. Elite Daily reached out to both teams for comment, but did not hear back by the time of publication.
UPDATE: JAY-Z took to Twitter to settle the debate about who his "What's Free?" lyrics are about, and the answer is: not Kanye. On Nov. 30, the rapper tweeted, "The line clearly meant don't pit me against my brothers no matter what our differences are (red hat) now go pick up Meek album . Drake and Meek on there together."
Case closed.
PREVIOUSLY: Here's what went down: after Championships was released, fans started listening intently to the lyrics of "What's Free" (a track that features Rick Ross as well). They realized that JAY-Z's lines are chock full of references that could point to Kanye West's unwavering support of Donald Trump. If your thoughts immediately jump to West's penchant for Trumps MAGA hat, then you're certainly on the right track.
Some of the lyrics to "What's Free" go:
No red hat, don't Michael and Prince me and Ye/They separate you when you got Michael and Prince's DNA/I ain't one of these house n***as you bought/My house like a resort, my house bigger than yours/My spo—c'mon, man—my route better of course
Eesh.
You can listen to the whole song below:
Of course, Twitter had some ~thoughts~ about the entire thing:
If you're confused because you thought that these two were on relatively good terms, you're not alone. Back in August 2017, JAY-Z spoke about the ordeal to the Rap Radar podcast, trying to explain why he was initially at odds with West. He said,
You can't bring my kids, my wife into it. Kanye's my little brother...But you brought my family into it, that's a problem ... You know it's a problem because me and him would have been talked about it, been resolved our issues. And he knows he crossed the line, he knows. And I know he knows. Because we've never let this much space go between one of our disagreements and we've had many. It's a part of who we are.
So I guess these two "brothers" are back at it again, unfortunately. And, although we might not have an exact reason as to why, the fact that JAY-Z brings up West's support of Trump might be a small indicator that that has something to do with it.
But, if you look at what other fans are saying on Twitter, many believe that JAY-Z isn't shading West at all — rather, he's pointing the finger at Trump:
While some people think he's definitely coming for both West and Trump:
So, what should we make of this whole thing? I truly don't know.
One thing we do know for sure is Meek Mill's criticism of West's support of Trump. In an interview with Vulture in November 2018, Meek revealed that he attempted to get West to cancel his meeting with Trump inside the Oval Office. He told the magazine,
I don't think [Kanye] addressed anything that had to do with what was tough on justice reform. He wasn't prepared for it, and he shouldn't have done it. I had phone calls with Kanye for hours. He was trying to get me to go to things like that ... [Kim Kardashian] knew a lot more information than I thought she would know, [but] I just couldn't reason with them.
Looks like we'll just have to wait and see if Kanye West responds to JAY-Z's subtle shade on "What's Free." I'll be refreshing my Twitter feed frantically in the meantime.