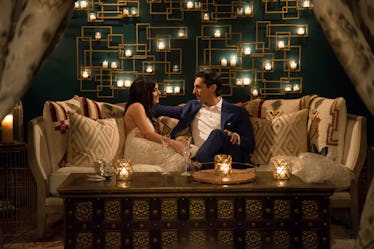 Jason Shared Heartbreaking Details About His Breakup With Becca That Fans Didn't See On TV
ABC
Becca Kufrin said goodbye to one of fans' most beloved men on The Bachelorette this week when she sent Jason Tartick home before entering the fantasy suite with him in Thailand. Both Becca and Jason seemed equally torn about the decision, with Becca simply having a gut feeling that they wouldn't work out and Jason being completely caught off guard about the elimination. His third-place finish meant that Jason appeared at last week's Men Tell All taping, where he spilled backstage about his Bachelorette exit. Jason and Becca's breakup completely "blindsided" him, and I'm definitely not over this heartbreak yet.
We won't see how Jason addresses his breakup on the actual Men Tell All episode until July 30, but when speaking to Entertainment Tonight behind the scenes, he opened up about the moment that Becca broke the unexpected news, saying:
I was in complete shock. They didn't show it [in the episode], but the next day, I was a mess, because it all hit me... [In] that moment, I'm in Thailand and I have everything someone could ask for. I have a suite full of all the food and drink I want… and it was one of the most empty moments in my life, because I didn't have my friends, I didn't have my family, and I just lost her. So it puts it in perspective. It's not about where you are or what you have. It's really who you're with and the happiness associated with family and friends.
Seeing as Jason was heartwarmingly positive throughout the season, it's horrible to imagine him alone and emotional in a hotel room thousands of miles from home. Also, there's nothing more perfect for a potential Bachelor's backstory than being the heartbroken fan favorite — just saying, ABC.
After Becca sent him home during the dinner portion of their fantasy suite date, Jason later returned for a sense of closure, delivering a scrapbook he made of mementos from their relationship. Jason confirmed to Glamour that he put together the memory book throughout the season's filming, but seeing as he planned to give her the book at the final two phase, his early elimination definitely "blindsided" Jason. Luckily, as we all saw, Becca also struggled with sending home the Buffalo native, and she told ET at the Men Tell All taping:
It was just an unexplainable moment that I felt in my heart. I really started to fall in love with him, and so when I ended things so abruptly, it I just wanted to give him a reason why. I wasn't fully able to do that. It was something I couldn't really verbalize, and so that's why I appreciated that he came back to the hotel and we could have that last conversation.
Jason hasn't been named as a contestant on Bachelor in Paradise yet, and seeing as he's the first serious contender from Becca's season not immediately announced for Paradise, ABC may be hinting that they have an idea of who the newest Bachelor will be. Ladies, hone your hockey skills, because we might just see Jason and his athleticism at the mansion next year.
The Bachelorette returns on Monday, July 30, at 8 p.m. ET on ABC, with its Men Tell All special.