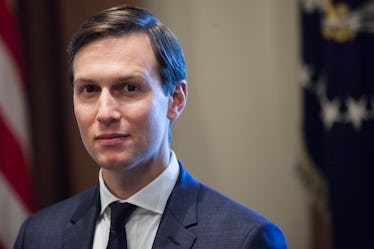 Jared Kushner Got Called Out By The Senate For Not Disclosing Emails On WikiLeaks & Russia
Pool/Getty Images News/Getty Images
The president's son-in-law is being grilled anew over the investigations into Russian meddling in the 2016 election. Jared Kushner didn't disclose emails about WikiLeaks and Russia to the Senate Judiciary Committee, the Washington Post reports, and now he's taking the heat for it. The committee is demanding that President Donald Trump's senior advisor — and Ivanka Trump's husband — hand over those documents.
Committee leaders Chuck Grassley (R-IA) and Dianne Feinstein (D-CA) are apparently called out the omission in the form of a letter sent to Kushner's lawyer Abbe Lowell on Thursday, Nov. 16. The emails in question are said to be forwarded emails containing "Russian overtures and dinner invites," as well as September 2016 exchanges "concerning WikiLeaks," which the committee members claim were then forwarded to other campaign officials. The senators became aware of these undisclosed emails, per Politico, after other witnesses interviewed had produced them.
"We appreciate your voluntary cooperation with the committee's investigation, but the production appears to have been incomplete ... It appears that your search may have overlooked several documents," the letter read, according to the New York Times. Per the Post, Feinstein and Grassley stated that Kushner has until Nov. 27 to hand over the requested documents, but the committee did not issue a formal subpoena for them.
In a statement Thursday, Kushner's attorney Lowell said that they'd provided the committee with all documents pertaining to their request, the Times reports. He added, "We also informed the committee we will be open to responding to any additional requests and that we will continue to work with White House Counsel for any responsive documents from after the inauguration."
The Post says one of the emails referenced pertained to a meeting with Belarusian businessman Sergei Millian, who has long claimed close ties to the Trump family.
Per the New York Times, the committee's letter also listed phone records Kushner apparently failed to disclose. The committee is also asking him to hand over a security clearance form and transcripts from his interviews with other committees, and to search for documents pertaining to former national security advisor Michael Flynn, according to the Post.
According to a tweet by MSNBC producer Kyle Griffin, Feinstein has sent additional letters regarding the investigation with Russian contacts. One of those, per a photo attached, requested documents from the White House related to Kushner's role in the firings of Flynn and former FBI Director James Comey.
WikiLeaks, the anti-secrecy group led by Julian Assange, was behind the online publishing of a trove of stolen emails hacked from the Democratic National Committee during the 2016 campaign, as well as those belonging to Hillary Clinton's campaign chair John Podesta. Investigations into the potential role of the Trump campaign in Russia's efforts to influence the election have included looking into the role that WikiLeaks played in its publication of documents.
Earlier this week, it was revealed that the president's eldest son, Donald Trump Jr., had had direct exchanges with WikiLeaks over Twitter. Based on a tweet by CNN congressional correspondent Manu Raju, the White House appears to be keeping silent about the latest news on Kushner and Trump Jr.
The committee has also requested that Kushner and his counsel hand over a copy of Kushner's SF-86 form. This form, documenting contacts with foreign governments for the last seven years, is required to be filled out in order to obtain security clearance. Kushner has had to amend his form multiple times. Back in April, it was revealed that he had failed to disclose numerous contacts with Russian officials, even as recently as December 2016. That omission included the infamous June 2016 meeting at which members of Trump's campaign met with Russian officials at Trump Tower for the promise of "dirt" on Clinton.
Politico reports that, 10 months into his role as senior advisor to the president, Kushner is still using an interim security clearance.
Thursday's letter is adding to already high levels of scrutiny and tension for Trump and his inner circle. Outside of the congressional investigations, the FBI's turned up the heat, resulting in the indictments of Paul Manafort and Rick Gates, two former Trump campaign aides, and a guilty plea by a third, George Papadopoulos, in October.
This means there's more pressure on Kushner than ever to play ball with congressional investigators — and in the next 10 days.