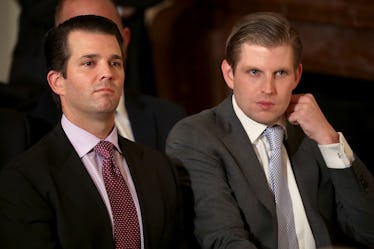 Here's What Happened With Trump Jr. & Wikileaks
Chip Somodevilla/Getty Images News/Getty Images
The latest revelation on the investigations into meddling in the 2016 presidential election was about another of President Donald Trump's campaign key players. According to a report by The Atlantic, Donald Trump Jr. and WikiLeaks messaged during the election campaign. What exactly the revelation means in the larger puzzle investigators are trying to piece together is unclear, but it's another link establishing contact between outside sources and the Trump campaign.
The communications were first reported by The Atlantic's Julia Ioffe on Monday, Nov. 13, and were turned over to congressional investigators by Trump Jr.'s lawyers in compliance with their various investigations into Russian meddling in the 2016 election. The Atlantic reports that the correspondence between Trump Jr. and WikiLeaks began on Sept. 20, 2016 and continued through July 2017.
According to the article, the U.S. intelligence community believes that WikiLeaks, a transparency organization founded by Julian Assange, was targeted by Russian officials to publish its hacked information during the election season. WikiLeaks appears to have chosen Trump's son and campaign surrogate to approach with the information.
Per The Atlantic, WikiLeaks made some steep requests to Trump Jr. The organization allegedly asked him to release Trump's tax returns, pressed the campaign to contest the election results as rigged if Clinton won, and asked that Trump tell Australia appoint Assange as ambassador the U.S. if he won.
On Oct. 12, 2016, WikiLeaks apparently urged Trump Jr. to link to the site's published trove of hacked Democratic National Committee (DNC) emails from Clinton's campaign chair John Podesta. "Strongly suggest your dad tweets this link if he mentions us," WikiLeaks allegedly wrote in a message to Trump Jr. "Btw we just released Podesta Emails Part 4."
As The Wall Street Journal's Byron Tau pointed out, it was just 15 minutes after that message to the son that Trump (senior) himself tweeted, "Very little pick-up by the dishonest media of incredible information provided by WikiLeaks. So dishonest! Rigged system!"
As to why WikiLeaks reached out to Trump Jr. about the rigged election comment, Assange himself had this to say:
WikiLeaks in general did not respond to The Altantic's requests for comments. Alan Futerfas, an attorney for Trump Jr., said, "Over the last several months, we have worked cooperatively with each of the committees and have voluntarily turned over thousands of documents in response to their requests."
As MSNBC producer Kyle Griffin points out, on Oct. 14, 2016 — just two days after the exchanges between Trump Jr. and WikiLeaks regarding the Podesta emails — Mike Pence made an appearance on Fox News in which he unequivocally denied the suggestion that the Trump campaign was "in cahoots" with WikiLeaks, saying, "Nothing could be further from the truth."
Trump Jr. on Monday addressed the exchanges in a series of tweets. "Here is the entire chain of messages with @wikileaks (with my whopping 3 responses) which one of the congressional committees has chosen to selectively leak. How ironic!," he wrote. In a reply, one user called out Trump Jr.'s own promotion of WikiLeaks last year:
It's not immediately clear what the WikiLeaks communications will mean for the congressional investigations or for the FBI probe led by Special Counsel Robert Mueller, who last month indicted two former Trump campaign aides and made a plea deal with a third. But the communications do provide further evidence of coordination between Trump's campaign and outside actors.
Over the last several months, it was revealed that Trump Jr. had responded to an offer by a Russian national for "dirt" on Hillary Clinton with open arms, and in June 2016, along with Jared Kushner and other key players, took a meeting at Trump Tower with prominent Russians to follow through on this possible information.
Trump, on Oct. 10, 2016, said that he loves WikiLeaks. But CIA Director Mike Pompeo, earlier this year, called the anti-secrecy group, "a nonstate hostile intelligence service often abetted by state actors like Russia." Back in January, a CIA report had identified Russian officials who fed the stolen emails to WikiLeaks through third parties.
Just what the congressional investigations might do with the WikiLeaks information, The Atlantic writes, remains to be seen.