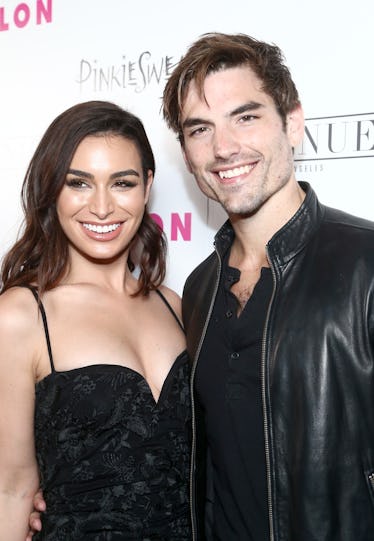 What Jared Haibon Just Said About Dating Ashley Iaconetti Proves Their Love Is Real
Tommaso Boddi/Getty Images Entertainment/Getty Images
How's everyone doing since the revelation that BACHELOR IN PARADISE'S JARED HAIBON AND ASHLEY IACONETTI ARE STRAIGHT UP IN LOVE??? It's been a few weeks since they outed themselves as the real deal, but Bachelor nuts are still celebrating. If you've followed the series and its spinoffs closely, you might be a little familiar with Haibon and Iaconetti's history. But, for many of us, their big reveal as BF and GF came as an awesome surprise. Jared Haibon's latest comments about Ashley Iaconetti show how serious they really are, and man, they are serious.
Over the weekend of June 3, Haibon and Iaconetti hit up the 2018 iHeartRadio KIIS FM Wango Tango By AT&T event in Los Angeles. E! News caught up with the suspiciously attractive couple, who was more than happy to gush about their new romance. Most notably, Haibon made some specific comments that show he's thinking long-term. He told E!, "It feels good to know I'll never go on a first date again."
Record scratch. Hello!!!
Haibon said that right now he and Iaconetti spend the bulk of their time with "sweatpants and Postmates," adding, "That's our life right now. It's the greatest." While it sounds like the two lovebirds are getting in some major R&R at home, they also just got back from a romantic trip to Hawaii where Haibon's feelings showed up front and center. He told E!'s reporters,
We just went to Hawaii last weekend and we spent six straight days with each other, pretty much every minute of those days. And then, when I left her for the first time, I was just like, 'I don't want to leave you.'
For Haibon, those emotions were a big wake up call. He added, "That was a big moment for me when I said this is life-long, life partner stuff."
Wait a minute, are we talking like final rose life partner stuff???
While at the Wango Tango, Iaconetti posted a series of Instagram stories of her and Haibon dancing to The Backstreet Boys and getting nice and cozy.
Haibon serenaded her singing "I Want It That Way," and Iaconetti posted a video of them dancing to "Everybody (Backstreet's Back)." She hilariously captioned that video: "Cringe away."
It turns out, The Backstreet Boys actually have weird significance to Iaconetti and Haibon. In 2016, Haibon created a video singing the boyband's popular tunes, which she featured on her Instagram story, too.
She explained, "Well, after that Backstreet Boys experience, we have to reminisce about the time Jared made me a Backstreet Boys video for my birthday." The video was made in 2016.
If you want the whole story about their courtship, you're in luck, because they made it totally accessible. Iaconetti hosts a web series titled This Is Us in which she usually dives into other couples' love stories. When she and Haibon decided to go public with their relationship, they went ahead and shared their story on the series.
The whole episode is 45 minutes long, but one of the highlights definitely includes Iaconetti's recollection of seeing Haibon for the first time. She said,
I remember walking down the steps in Paradise and seeing him at the bar, and it was the weirdest feeling. I was just so gravitated and drawn to him... it truly was love at first sight... I didn't really believe in love at first sight. I believed in infatuation at first sight, but now after all these years, I'm pretty sure it was love.
Ugh, do you die?
Watch the full play-by-play in the video below, and be sure to keep a close eye on their social media accounts because they definitely are big on sharing the sweet-nothings.