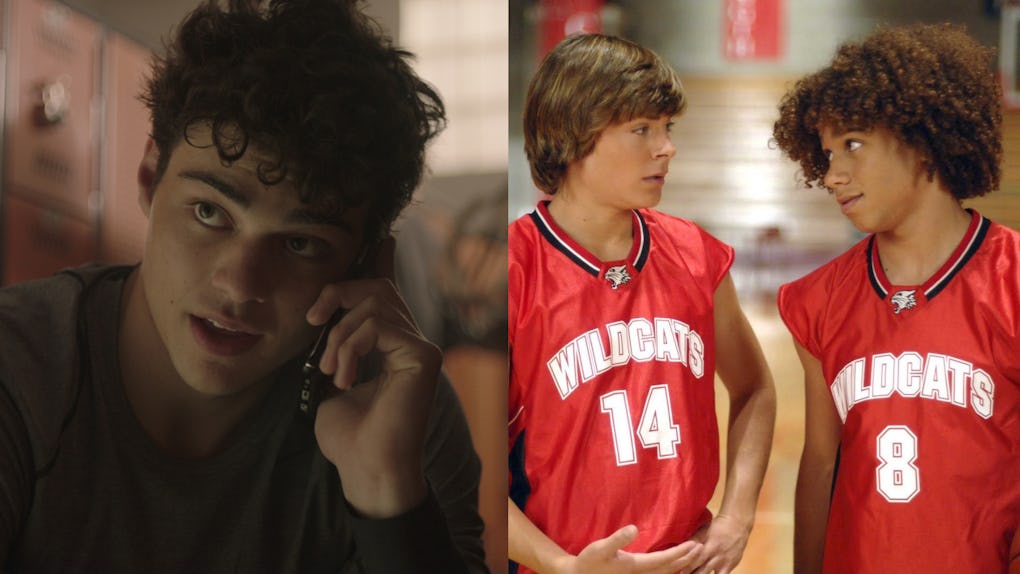 Netflix & Disney Channel
Jamey's Football Number In 'Sierra Burgess Is A Loser' Is The Same As Troy Bolton's
If you're old enough to remember falling for Troy Bolton as he sung and danced across the basketball court in High School Musical, you probably thought you were past the appeal of the latest onscreen teen romances. Enter Noah Centineo and his thriving reign as Netflix's dream guy. After becoming a heartthrob in To All the Boys I've Loved Before, Centineo continued his work with Netflix in another high school rom-com, in which his character has a fleeting similarity to so many viewers' original teen dream. Jamey's football number in Sierra Burgess Is a Loser is the same as Troy Bolton's, and I refuse to believe that this is a coincidence.
After appearing as a lovable lax bro in To All the Boys I've Loved Before, Centineo plays yet another lovestruck jock in Netflix's Sierra Burgess Is a Loser. When his character Jamey ends up with band geek Sierra's phone number and believes it belongs to a popular cheerleader, he texts her, and sparks fly between them through their messaging. However, Jamey still believes that Sierra is Veronica, the cheerleader who purposely gave him Sierra's number. The rest of the film follows the two girls pairing together and helping the other win over their respective crushes.
Although Jamey is no Peter Kavinsky, a fan of Centineo took to Twitter to point out a funny similarity between Jamey and the cinematic epitome of the high school jock, High School Musical's Troy Bolton. It turns out that the two sport the same number on their team jerseys.
As far as we know, Troy never played football at East High (but he had to spend the fall sports season doing something), but his basketball jersey having the same number as Jamey's football uniform is a pretty spectacular coincidence if it wasn't intentional. Besides excelling in athletics, both characters have softer sides that a viewer wouldn't necessarily expect from high school jocks. Centineo's character isn't starring in any school musicals anytime soon, but Troy Bolton would definitely pull a Jamey and bring Gabriella a sunflower.
Thanks to such a successful summer casually revitalizing the teen rom-com genre, Centineo probably has plenty of other film projects in store. But if there's ever a gap in his schedule, the opportunity to reel in even more comparisons to Zac Efron is definitely possible. Disney's new streaming service is launching a High School Musical TV series, and although there isn't a direct correlation to Troy Bolton among its list of characters, viewers clearly don't mind 22-year-old Centineo playing more high school students.
Of course, ending up in a Disney production would also be familiar ground for Centineo. He started his career with several guest appearances in Disney Channel shows such as Shake It Up, Austin & Ally, and Jessie, so if that ever so tentative High School Musical 4 happens someday, I think Disney knows who to call for its romantic lead. Find your Wildcat pride and get'cha head in the game, Peter Kavinsky!
Sierra Burgess Is a Loser is currently streaming on Netflix.