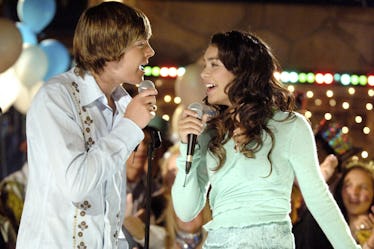 A 'High School Musical' TV Series Is Coming, So Start Practicing Your Wildcat Chants
Disney Channel
Get'cha head in the game, Wildcats! It's been 10 years since we left the East High gang at their graduation at the end of 2008's High School Musical 3, but Disney has plans in store for anyone missing the start of something new. You may have heard of tentative projects for Disney's still-unnamed streaming service, but now we're finally getting the full scoop behind one of the platform's plans. A High School Musical TV series is coming, but before you start relearning the old choreography of your favorite songs, there's a catch to the show that you'll want to know about.
While the TV project is separate from the company's plans for a High School Musical 4 (we're still waiting, Disney), the upcoming show isn't quite what you may think. Instead of seeing, say, a cheerleader and a band geek fall in love while working on the school musical, TVLine reports that the 10-episode series will be a scripted show taking on the form of a docuseries. Throughout the show, East High School students work on a production of High School Musical, but the drama offstage soon rivals the antics onstage. What will be more meta — this or the High School Musical-themed episode of The Suite Life of Zack and Cody?
Of course, it isn't High School Musical without the music we can still belt from memory at the top of our lungs. In each episode of the new series, a song from the original franchise will feature as a "new rendition." We'll hear some of our favorite jams, but possibly in a very different way. Basically, think of that time in High School Musical 2 when Sharpay performed an over-the-top, loud version of "You Are The Music in Me" in comparison to Troy and Gabriella's slow and romantic cover of the song.
Original songs meant for the series will also appear in each episode. Just as with the movie's characters, the people on the High School Musical series are a mix of musical theater newbies and pros with inevitable "only in 2018" qualities. Presumably the Troy and Gabriella equivalents of the show, Ricky and Nini, are exes who aren't quite through with each other. Nini has a new boyfriend she met at summer camp alongside discovering the power of her voice, so while she can't stop singing, Ricky is determined to win her back. As the class clown, he shocks everyone when he auditions for the school musical to get Nini's attention.
While new kid Ashlyn loves Sara Bareilles and political marches, Ricky's best friend Big Red is torn between his loyalty to his friend and his secret love for Nini. Definitely the Sharpay of a new generation, Gina comes to the school musical with an Equity card, a crazy stage mother, and the fear that she and her theater career peaked in sixth grade. Meanwhile, Ms. Darbus seems to have retired, and new drama teacher Miss Jenn, who left New York under "mysterious circumstances," is so passionate about musicals that she and a student launch a Kickstarter campaign to fund their show. Something tells me that Ms. Darbus wouldn't be too thrilled about this.
There's no word yet on when the High School Musical TV series hits Disney's streaming service, but I'm ready to show my Wildcat pride by watching the new series. Now, if only we could get more info about High School Musical 4...