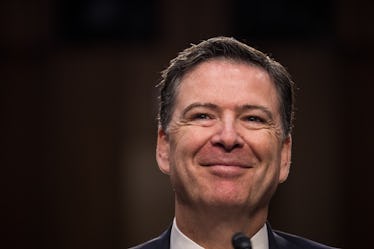 James Comey Clapped Back At Donald Trump On Twitter & You Need To See It
Drew Angerer/Getty Images News/Getty Images
Well, it looks like the Trump administration began its weekend on a dramatic note. Late on Friday, March 16, Attorney General Jeff Sessions fired FBI Deputy Director Andrew McCabe. This is especially frustrating for the director, because he was less than two days away from retirement. McCabe announced in January 2018 that he'd be stepping down from his position — but after Sessions made the decision to fire him, McCabe's career abruptly ended. Of course, Donald Trump tweeted about the decision — and James Comey clapped back. In fact, James Comey's Twitter response to Trump firing McCabe is a total burn.
As you may or may not know, James Comey is the former FBI Director who Donald Trump fired in May 2017. Many people think the president fired him because of his stance in the ongoing investigation to see if Russia colluded with Trump during the 2016 presidential election. Anyway, Trump included Comey in a tweet that followed McCabe's firing, and it certainly wasn't flattering. At 1:08 a.m. on Saturday, March 17, Trump called Comey "sanctimonious" and implied that he knew about the "lies and corruption" going on at the FBI. Trump's entire tweet says,
Andrew McCabe FIRED, a great day for the hard working men and women of the FBI - A great day for Democracy. Sanctimonious James Comey was his boss and made McCabe look like a choirboy. He knew all about the lies and corruption going on at the highest levels of the FBI!
Of course, Trump's tweet ignited a fire in Comey, who spoke his mind via Twitter on Saturday afternoon. Comey's tweet implies that citizens of the United States will get to decide who's actually honorable in the situation. It says,
Mr. President, the American people will hear my story very soon. And they can judge for themselves who is honorable and who is not.
Can I get a mic drop?
Comey is releasing a book called A Higher Loyalty in April, and maybe that's what he's referring to in his tweet. Either way, it looks like he's leaving the decision up to American citizens (or anyone willing to read his book).
Believe it or not, McCabe is currently in a similar position as Comey was in May. According to the Associated Press, McCabe reportedly kept personal memos with details of interactions with the president, just like Comey did. An anonymous person with direct knowledge of the situation confirmed McCabe's memos, but is not authorized to discuss them publicly, per the AP. Right now, it's unclear whether the apparent memos have been given to Robert Mueller.
McCabe released a fiery statement on Friday night after he was fired, according to CNN. The former FBI Deputy Director said his termination was part of the Trump administration's "ongoing war on the FBI." McCabe reportedly stated,
This attack on my credibility is one part of a larger effort not just to slander me personally, but to taint the FBI, law enforcement, and intelligence professionals more generally. It is part of this Administration's ongoing war on the FBI and the efforts of the Special Counsel investigation, which continue to this day. Their persistence in this campaign only highlights the importance of the Special Counsel's work.
As previously mentioned, McCabe was set to retire on Sunday, March 18 after more than two decades of service. Because he was fired, his retirement benefits — including his pension — are at risk. We're not talking petty cash here, either... we're talking hundreds of thousands of dollars, per CNN. Yikes. Apparently, the FBI did not comment on McCabe's future when it comes to his finances.
Money aside, I'm curious to see what Comey has in store for the nation with his upcoming book. When it's out, maybe we'll get a deeper look into the situation at hand. Based off his tweet, there's a good chance we will.