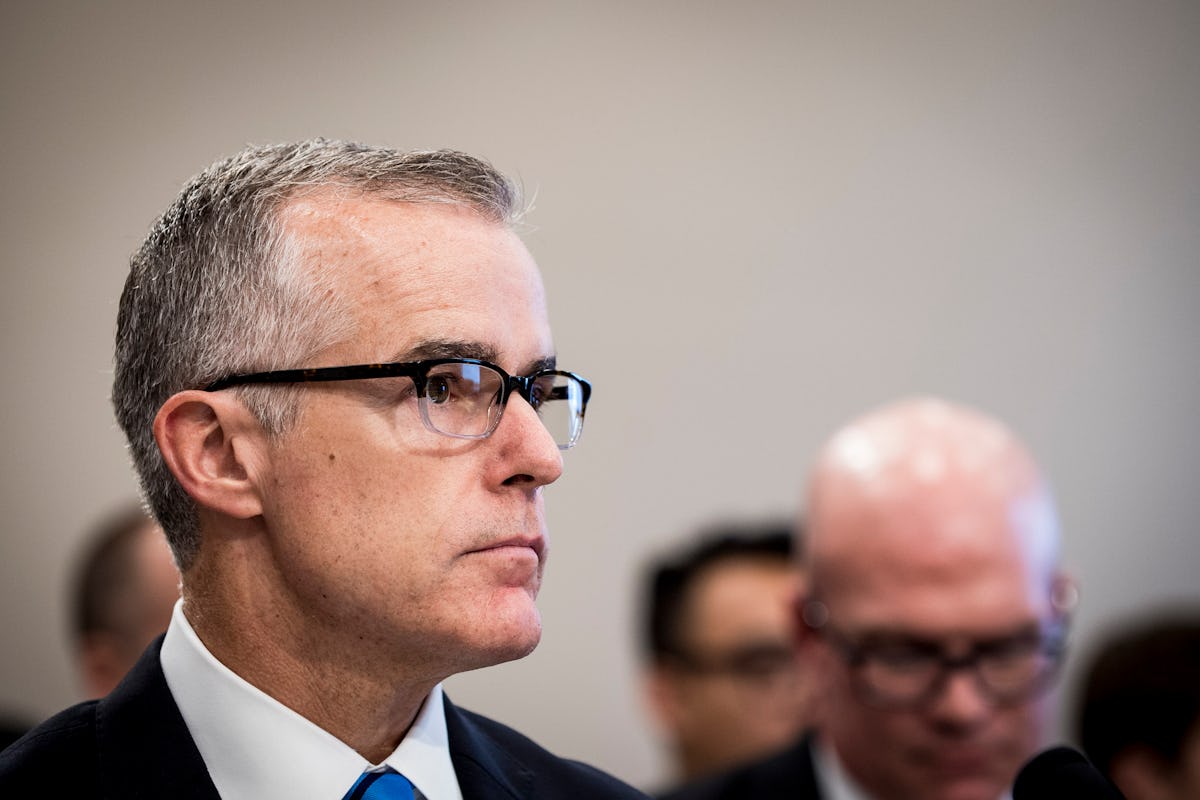 This FBI Official Is Stepping Down & It's A Big Deal For Donald Trump
Pete Marovich/Getty Images News/Getty Images
On Monday, Jan. 29, NBC News reported that FBI Deputy Director Andrew McCabe is stepping down from his position. Although McCabe may not be as well-known of a name as Robert Mueller, he has been playing a big role in the ongoing investigation into possible collusion between the Donald Trump presidential campaign and Russia. McCabe has been the center of a whole lot of drama in the weeks leading up to this report.
According to Reuters, McCabe is stepping down essentially by going on leave for a bit. NBC reports that he is "stepping inside," per a source, until the middle of March, when he will be able to retire with full benefits. Not a bad arrangement for a guy under a ton of pressure in a high-profile case.
News about McCabe has been stirring lately due to a Washington Post article published on Jan. 23. Way back in May 2017, after Trump fired FBI Director James Comey, McCabe became the FBI acting director. (McCabe's time in that position lasted until August, when Trump appointed Christopher Wray to formally take over Comey's old spot.) According to the Post, after this happened, Trump called McCabe into the Oval Office. In that meeting, Trump reportedly asked McCabe who he voted for in the 2016 presidential election. McCabe reportedly told Trump that he did not vote at all. (Since the Washington Post report came out, Trump has said that he does not remember asking McCabe about who he voted for.)
McCabe has been the target of many angry tweets from the president.
As seen in Trump's tweets, the president isn't his biggest fan. Trump's tweets referenced money that McCabe's Democratic wife got for a 2015 Virginia Senate campaign from Virginia Governor Terry McAuliffe, who is aligned with Hillary Clinton.
Basically, Trump has been implying that McCabe should not be involved in the Russia investigation because Trump thinks that he's more sympathetic to Democrats/Clinton. This aligns with Trump's ongoing message that the Russia investigation is nothing more than a politically-driven attack on his presidency from the Democrats. The investigation has been ongoing.
McCabe's rushed retirement fits into the larger narrative of Trump trying to get people he deems against him out of his way.
On Jan. 23, Axios reported that Attorney General Jeff Sessions was following Trump's suggestion to try and get McCabe out of the FBI. (Trump appointed Sessions to the Attorney General position last year.) According to the Axios report, Sessions was working to get FBI Director Wray to fire McCabe. However, Wray reportedly said he would resign if McCabe was fired, sources told Axios.
This was all followed by a Jan. 25 report from The New York Times that claimed that Trump tried to fire Mueller, who is leading the Russia investigation, back in June 2017. However, White House counsel Don McGahn II reportedly said that he would quit rather than fire Mueller. Because of that, Trump reportedly backed off from getting him to fire Mueller.
All things considered, there's just a whole lot of murkiness going on with what Trump is reportedly doing in reaction to the FBI's investigation into Russia interference on the 2016 presidential election. News readers have seen multiple reports indicating that Trump is trying to figure out who on the FBI is loyal to him — and trying to get rid of anyone he deems disloyal. Comey said in a June testimony to the Senate that Trump told him in January 2017 that he expected "loyalty" from the then-FBI director. This alleged sentiment has clearly not gone away, as Trump has continuously tweeted his suspicions about FBI officials such as McCabe.
As of publication time, Trump has not (yet) tweeted about this new update from McCabe.