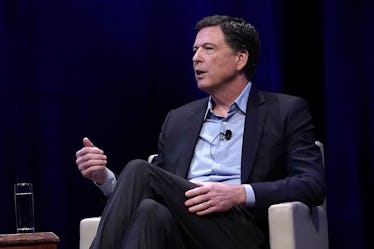 James Comey Said He Sang This Beyoncé Song During An FBI Briefing & I'm Shook
Alex Wong/Getty Images News/Getty Images
At this point, I'm convinced that everyone's a fan of Beyoncé. Even famous people can't help but voice their adoration over the superstar and her hypnotic hits, including former FBI Director James Comey. According to The Hill, James Comey sang Beyoncé's "Sandcastles" during an FBI briefing, and I'm so stirred.
In an interview with PBS News Hour on May 1, Comey recalled the time he sang the slow tune (which is from Beyoncé's sixth and most recent studio album, Lemonade) after being handed a file with the code name "Sandcastles."
"They always have weird code names," Comey explained, according to The Hill. "It was 'Sandcastles,' and so I said 'Beyoncé!' And I was the only one in the room who had any idea what I was talking about. People were like 'What?' I said, 'We built sandcastles'… Honest to God, I sung like that."
Wow. I don't know if I'm more appalled over the fact that no one knew the song or that Comey broke out in a full power ballad about a broken relationship in a room full of FBI agents. But also, in the same interview, Comey said he enjoys listening to Taylor Swift and Kendrick Lamar, too, which might be even more surprising than his affinity for Bey. IDK, but this is all too much and way beyond my expectations of an FBI director.
Comey is currently on a press tour following the release of his latest book A Higher Loyalty: Truth, Lies, and Leadership, which details his role as FBI director from 2013 to May 2017, when he was fired by President Donald Trump. As a part of the tour, on April 12, he also interviewed with The New York Times and admitted that he's even a fan of — wait for it — teenage romantic dramas. According to Comey, he owns, "The Fault in Our Stars by John Green; the Mistborn series, by Brandon Sanderson; and the Red Rising series, by Pierce Brown." Though he said he only read the books so he can "understand what [my kids] are reading and also pretend to be cool," I'm not falling for it for a sec.
In his own book, though, Comey touches on some pretty interesting issues about his experiences with Trump during his time as FBI director. The memoir, which hit shelves on April 17, describes the president as dishonest and "unethical," but also recounts a claim about one of the most uncomfortable stories surrounding Trump to date — the infamous "pee tape."
On April 12, The New York Post reported that, in Comey's book, the former FBI director claims to have been asked by Trump to investigate the tape to prove to his wife, Melania, that he didn't pay for golden showers from Russian prostitutes. Comey wrote,
He brought up what he called the 'golden showers thing' … adding that it bothered him if there was 'even a one percent chance' his wife, Melania, thought it was true.
He continued on to say that Trump allegedly rambled on and on about the rumors, and eventually considered allowing Comey to investigate the tape further.
"He just rolled on, unprompted, explaining why it couldn't possibly be true, ending by saying he was thinking of asking me to investigate the allegation to prove it was a lie," Comey wrote. "I said it was up to him." Elite Daily reached out to the White House for comment on Comey's claims at the time, but did not hear back.
Comey is clearly living his best life since he departed from his role in the FBI, reading his favorite books in peace — no matter the content — and jamming out to Beyoncé whenever the mood strikes. Ah, this is the life I aspire to live.