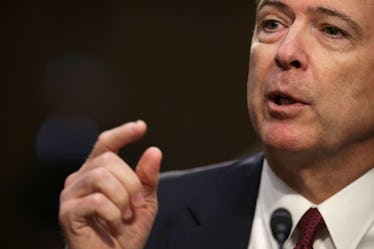 James Comey Is A Fan Of 'The Fault In Our Stars,' & I Have So Many Questions
Chip Somodevilla/Getty Images News/Getty Images
I don't know about you, but when I think about James Comey, I don't necessarily imagine that he's an owner of romantic dramas, whether it be a film or a book. Instead, I associate him with having such a stoic persona that would never allow him to indulge in certain kinds of material. That's why I was pretty surprised to learn that James Comey owns The Fault In Our Stars. The very thought of him reading a book about a couple of love-struck teenagers is mind-boggling, but at the same time, it's such a good book that I'm oddly here for it in a bizarre kind of way.
In an interview with The New York Times on April 12, Comey (a former FBI director turned author) admitted that he's an avid reader of nonfiction, with a "heavy emphasis on biography and social psychology." On rare occasions when he explores other genres, like fiction, he said it's because "it is almost always something my kids are reading, so I can understand what they are reading and also pretend to be cool." And when asked what kind of books people would be shocked to learn are in his ownership, he stated, "The Fault in Our Stars by John Green; the Mistborn series, by Brandon Sanderson; and the Red Rising series, by Pierce Brown."
As far as The Fault in Our Stars, I just wonder if *spoilers* Comey cried as ballistically as I did when Augustus died just after he'd affirmed his love to Hazel. Or WTH his kids really thought when they saw their dad reading teenage rom-coms. But these are really good choices, Comey!
Even John Green was shocked to hear the news. On April 16, he tweeted "INDEED, I AM SURPRISED," which prompted Comey to respond by praising the novel in a tweet. He wrote,
You should not be. It is a great book. Was recently in Amsterdam and walked some of the scenes with your huge fan, my youngest daughter. Loved hearing from you and meeting you at Kenyon.
Speaking of a "great book," Comey is gearing up to release his latest one, titled, A Higher Loyalty: Truth, Lies, and Leadership, which reportedly has some really juicy details in it about his experiences with the president and comes out on April 17. For example, in the upcoming book Comey claims that President Donald Trump asked him to investigate the infamous "pee tape" to debunk rumors that he'd paid for golden showers from Russian prostitutes, in an effort to appease his wife Melania. Comey wrote,
He brought up what he called the 'golden showers thing' … adding that it bothered him if there was 'even a one percent chance' his wife, Melania, thought it was true.
According to Comey's book, Trump went on and on about the claims and eventually mentioned investigating the tape. Comey continued,
He just rolled on, unprompted, explaining why it couldn't possibly be true, ending by saying he was thinking of asking me to investigate the allegation to prove it was a lie. I said it was up to him.
Elite Daily reached out to The White House for comment on the claims, but did not hear back.
The claims are based on a series of reports that surfaced in January 2017 that alleged Trump had paid Russian prostitutes to perform "golden showers" on the Ritz Carlton Hotel bed that President Barack and Michelle Obama had slept in while visiting Moscow, Russia. The next day, Trump addressed the rumors, insisting that he was too much of a "germaphobe" to ever let such a thing happen, but overall, the whole ordeal is pretty much a complete mystery.
IDK about this whole "golden showers" plotline that Comey reportedly has in his book but I'd take The Fault in Our Stars over that strange visual any day. And I'm betting a lot of you all would, too.