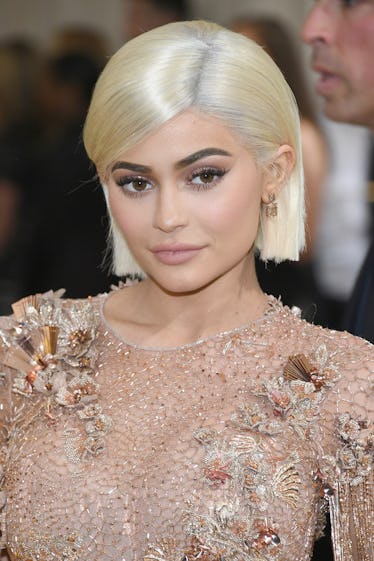 This Uber Popular Beauty Influencer Is Not Happy With Kylie Cosmetics
Dia Dipasupil/Getty Images Entertainment/Getty Images
Makeup brands often send samples of new products to bloggers and other influencers to drum up excitement for the launches, and it basically equates to free advertising. Sometimes, though, it backfires. Jackie Aina's comments about Kylie Cosmetics are calling out Kylie Jenner's growing beauty empire for sending out her new concealers to mostly light-skinned bloggers for review. Jenner has yet to officially respond to the accusation, but in the past, she has historically replied to criticism from fans.
If you're not familiar with Aina, she's a prominent beauty influencer with over 241,000 Twitter followers, 746,000 Instagram followers, and 1.8 million YouTube subscribers. Just a few hundred thousand more than me, no big deal. Aina is also African-American, and doesn't hesitate to point out problems in the oft light-skin-tilted beauty sphere. This is where Jenner comes into the picture.
Jenner recently added concealer to her bevy of Kylie Cosmetics goods, and following in Rihanna's Fenty foundation footsteps, Jenner's concealer is excitingly inclusive. While the liquid cover-up is available in 30 shades, Aina is accusing Jenner of only promoting the lighter shades and not sending any beauty bloggers the darker tones to try out. This is a serious accusation that I bet Jenner will not take lightly. An important point here, though, is that in ever-increasing climate of nastiness amongst beauty bloggers, Aina was constructive in her criticism and isn't trying to spark a social media feud.
Aina uploaded her official review of the Kylie Cosmetics products to her YouTube channel, and had quite a bit to say about the concealers. "You're probably here because you're expecting me to drag Kylie Jenner and her new concealers. Y'all are so shady!" Aina is not here to hate, OK?
Her original quest when filming the video review was to compare Jenner's concealer to ColourPop's similar, cheaper product. Both companies are manufactured by the same parent company, Seed Beauty, meaning that the concealers are probably pretty similar in composition, although they have a very different price tag: Jenner's sells for $20, while ColourPop's comes in at $6. Luckily, Aina decided the products are different and Jenner's is probably worth the extra cash. But wait, there's more.
"You went out of your way to create this beautiful bottom row of darker colors, but I didn't see a single person on YouTube outside of Shayla… reviewing these products?" Aina is not happy that Jenner apparently only gifted her concealers to light-skinned beauty influencers, failing to promote the darker tones.
"I'm not on [the Kylie Cosmetics] PR list and I'm most certainly not the only black beauty guru out there, but I'm just saying – why did you go out of your way to create all those shades and you didn't bother to send them to anybody to review? I want to see some reviews from some chocolate girls. I just wanna know where are they?
The blogger is praising Jenner for her idea of inclusivity, but points out that the reality star missed an opportunity to really reach a large portion of her customer base.
Aina goes on to express her concern that Jenner "did all that work for nothing by making all those dark colors and then not bothering to send them to any dark-skinned vloggers who could have reviewed them...ethics [are] important to me." To Aina and so many others out there, the industry is about much more than pretty makeup products.
Fans had taken to Twitter specifically to ask for testing/swatching of the darker shades, requesting Aina by name. And since part of the controversy over Jenner's concealers was that people can't swatch them through the computer, I feel the fans on this one, and I bet Jenner does too.
Here's hoping Jenner will include more dark-skinned beauty bloggers on her sample list next round. Considering her and sister Kim Kardashian West are dropping beauty products like they're hot, she'll have the opportunity to soon right this wrong.